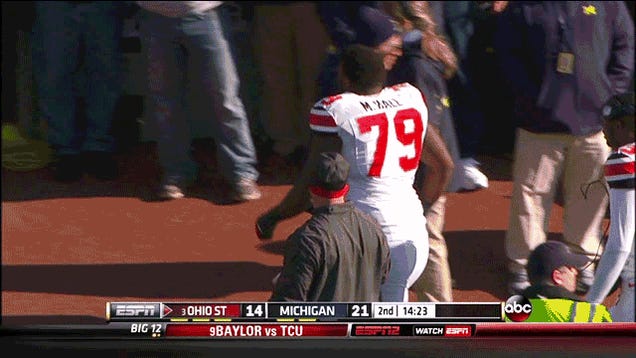 Marcus Hall, the former Ohio State offensive lineman whose double-bird storm-off at the Big House was the most triumphant moment of the college football season, is looking to cash in on his iconic moment, just as he damn well should.
Hall is selling signed photos of himself giving the finger to Michigan fans on eBay and in local memorabilia shops. One of them was spotted by college football writer Ben Axelrod:
Think a 1.5 game suspension was worth it for Marcus Hall in the long run? pic.twitter.com/jRAbcdCyN3

— Ben Axelrod (@BenAxelrod) February 16, 2014
We fully support Hall, who is by no means guaranteed a long and fruitful NFL career, doing what he can to make some money off his college career. In a more just world, he would have been able to sell these pictures right after the game.