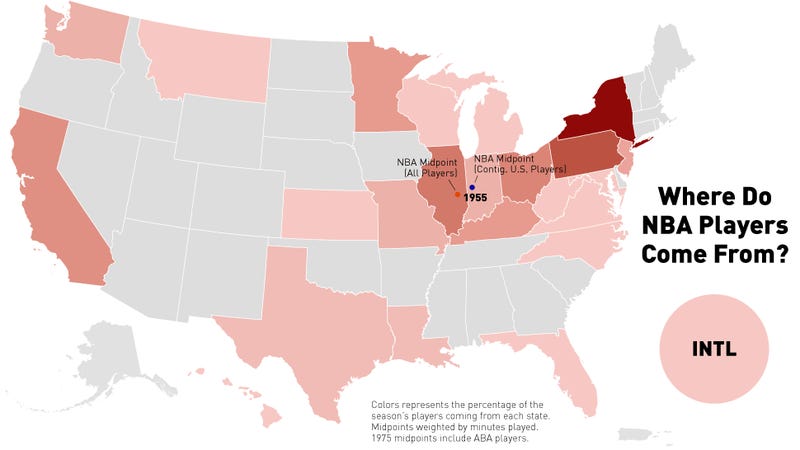 Depending on whom you ask, the hotbed for NBA talent might lie in D.C., Seattle, Prince George's County (Md.), Baton Rouge, or, uh, Slovenia. Thousands of people have played professional basketball—there are a lot of places vying for the crown. So: Where do most players actually come from?
To find out, I geocoded the "hometowns" of 3,802 NBA and ABA players (out of 4,139 total) from the incomparable Basketball Reference database. Designating hometowns, i.e. the place where players grew up before their talent began to emerge, is somewhat subjective, and I'm bound to have made a few mistakes. For a detailed methodology, and direct access to my data, see the bottom of the post. Here's a map of all the players:
The map at the top shows the decade-by-decade change in the geographic composition of the NBA, with the mean population center of the league marked in orange, and the mean population center of only the players from the 48 contiguous United States marked in blue.
We can watch, on that map, as the NBA grows from a regional league to a national one and then to an international one. For two decades, the mean population center of the NBA's American players sat in Indiana, just to the northeast of the mean U.S. population center. Post-merger, these two means have tracked each other almost perfectly, as the population of the western U.S. has grown. In 2012, the mean center of the NBA was only about 20 miles from the current population center of the United States. American NBA players, and Americans, come from the same place. Meanwhile, the huge surge of international players, which started in the late '80s, has sent the mean center of all NBA players well eastward, toward Europe.
So where's the real hotbed of talent? It depends on how you look at it. Here are the states that have produced the most NBA players:
State hotbed: California
Not a great showing for northern New England—Matt Bonner is its sole representative. California's 405 players, 10.7 percent of all players, is good enough to take first, while New York's 361 players, 9.5 percent of all players, is second.
Of course it's no surprise to see California and New York, two of the most populous states in the country, out in front. To get a better picture of what states have produced a disproportionate number of NBA players, we can adjust for population*.
State hotbed (per capita): Indiana
Indiana, home of Oscar Robertson, Larry Bird, and lovable-crazy Zach Randolph, truly is basketball's breadbasket. Kentucky, Mississippi, and Louisiana produce a lot of players as well, and Illinois and New York—two large states that almost always get cut down in per capita adjustments—come in fourth and sixth.