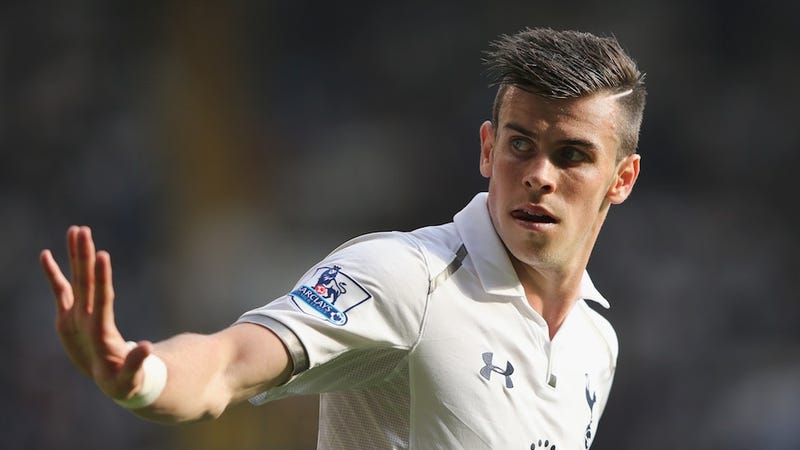 Even before Tottenham winger Gareth Bale swept the Premier League season individual awards last year, winning player of the year, young player of the year and Football Writers' Association player of the year, we knew that Real Madrid wanted him. We just didn't know how badly.
Yesterday, though, we got wind that the Spanish runners-up were finally making a move for the 24-year-old Welshman. And though the reports were conflicting, all agree that Real Madrid is prepared to smash the all-time transfer fee record to get him.
The Guardian says Spurs chairman Daniel Levy already turned down a €100 million, or £86.3 million pounds from Los Blancos for Bale. The Sun is reporting Tottenham's already turned down an £81 million offer, and Real Madrid are countering with £51 million plus players Ángel di María and Fábio Coentrão—a total of about £95 million. talkSPORT says Spurs don't want to part with their star for less than £100 million, or well over $150 million. These are the English rags, so the journalism during the transfer windows is shoddy at best even when the stories aren't flat-out fraudulent, but every offer smashes the record £80 million fee Real Madrid paid to buy Cristiano Ronaldo from Manchester United in 2009. The question everyone's asking is obvious: Is Gareth Bale worth all that cash?
First, some background. Bale joined Spurs from Southampton in 2007, and after five seasons of showing some promise—first as a left back, then as a winger—Bale went absolutely nuts last year with 21 goals and four assists in the league to carry a not-so-great Tottenham team to a fifth-place finish, just one point shy of fourth place and a Champions League slot. Lionel Messi and Ronaldo both scored and assisted more than Bale for their respective teams last, but even they might not have been as valuable to their clubs as Bale was to Spurs. Messi and Ronaldo play on historically great, well-rounded teams and are surrounded by stars bought for fortunes themselves. Short of Bale, Tottenham last year were pretty feckless at times in front of goal. Starting striker Jermain Defoe only scored 11 goals last campaign. Emmanuel Adebayor had five. But Bale scored lots of goals, spectacular goals, and they often came in matches' dying moments to deliver Spurs a win when a draw or even a loss would've been just.