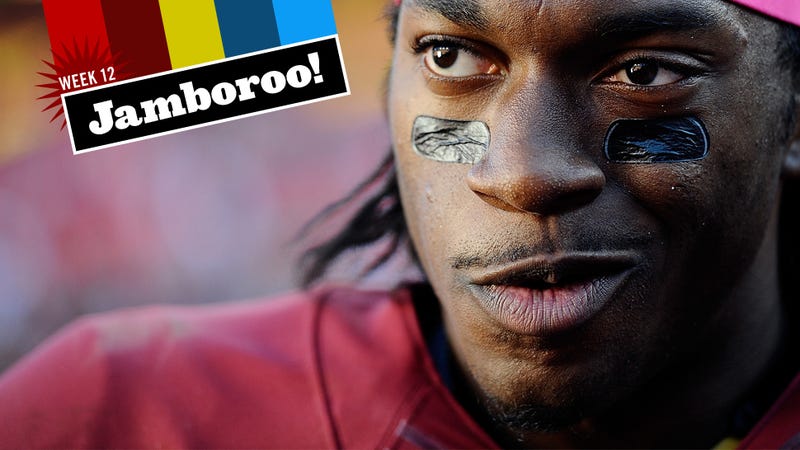 Drew Magary's Thursday Afternoon NFL Dick Joke Jamboroo runs every Thursday during the NFL season. Email Drew here.
I live here in the DC area and so I have been around for every possible stage of local RGThreever, from the trade ("We gave up how many picks?") to the justification for the trade ("Since we swapped picks in the first round, we really only traded TWO first rounders instead of three!") to the burgeoning excitement ("Holy shit, we have an actual quarterback instead of the Sex Cannon!") to the collective municipal orgasm that followed the first twelve or so weeks of last season ("UNNNNGHHHHHHHH [spurts]") to the first knee injury against the Ravens ("NO!") to his final devastating knee injury in the playoffs against Seattle, which remains one of the saddest things I've ever seen in a football game.
I've been around for the mourning of that injury and the seven-month civil war between local fans over whether or not the Skins ruined arguably the most exciting player in franchise history. As the offseason debate raged on talk radio day after day after fucking day (and as RGIII and the Skins and Dr. James Andrews engaged in a passive-aggressive Mexican standoff over who was to blame for his injury), Griffin and his corporate sponsors banded together to turn his rehabilitation story (which, it was always presumed, would be successful) into a kind of cottage industry of TV ads and slogans and strange preseason documentaries. I was around as public ambivalence over that narrative grew and grew, as Griffin arrived at training camp, and as the media reported every snap he took with a mixture of both excitement and dread.
And I've been around for this unrelenting nightmare of a season. The only thing clear, as of right now, is that Griffin came back well before he should have. Everything else about Griffin is a fucking mystery. If you charted his completion percentage from game-to-game over the past nine weeks, it would look like a two-year-old's attempt to draw a straight line. He only seems to be effective when the Skins are down by 24 points or more. His pick at the end of the Eagles game last week was pure Rex Grossman. It's not clear if he should still play. It's also not clear that rest will do him any good. It's not clear if this injury is just the annoying career blip that RGIII and his sponsors anticipated it would be, or if it is the kind of deeply catastrophic injury that makes it impossible for him to regain his old form. (Ask Carson Palmer if such an injury is possible.) It's not clear that RGIII can be a great quarterback without relying heavily on his feet, and it's not clear that he even wants to try.
And that's where we get to the murkiest issue of all: Is Robert Griffin III a douchebag?
One of the things that made Griffin so popular here—apart from his breathtaking talent—was that he was a likable fellow. That's no small thing when you work for an organization that has been home to as many deeply unlikable people as the Skins. Every fan—deep down—wants to know that the player he's rooting for isn't a fucking asshole. Sometimes you have to bite your lip and root for a dickhead like Charles Haley, but everyone would rather believe the whole "He's a great guy on and off the field!" horseshit is true of every player on the roster. And in that brilliant opening to his rookie season, RGIII did do everything right both on and off the field. He TOTALLY led the league smiles, you guys.