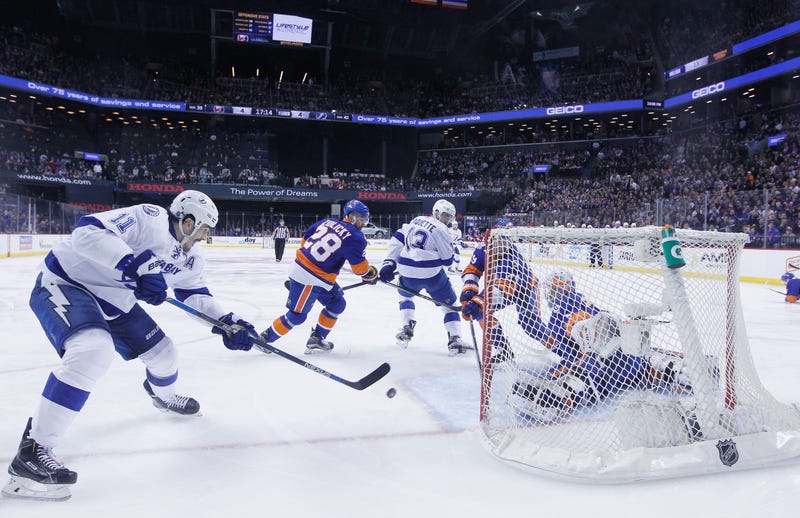 As sexy as playoff overtime is, it tends to overshadow all the good stuff that came before. And the Lightning's 5-4 win over the Islanders was very good, very fun hockey, even before Brian Boyle finished things 2:48 into OT to give Tampa Bay the 2-1 series lead. The teams traded body blows throughout, neither ever seizing more than a one-goal lead. And yet it's the final sequence we're talking about, and one borderline hit that the Isles believe should have negated the winner.
Boyle went from blue line to goal line, carrying the puck in, dropping it off, then posting up just to the side of the net. He was in perfect position to gather Victor Hedman's wide shot off the boards and snap it past a sprawling Thomas Greiss.
What you will only see on the replays is how Boyle came to be alone at the blue line, with all the space in the world. A shoulder to Thomas Hickey's head or chest (depending on who you ask) sent the Isles' D-man to the ice, and when the puck got back to Boyle seconds later he was able to carry it in unmolested. Hickey had just regained his skates and wasn't in the play when Boyle scored the winner.
"I don't know what the refs' explanation is . . . The guy's laying on the ice, you should make the call," Travis Hamomic said. "Whatever I can say, I'll probably get in trouble."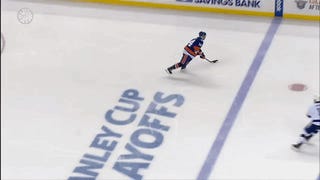 New York coach Jack Capuano was incensed.
"It's a direct shot to the head," Capuano said. "I mean, probably going to get suspended a game. That's what I mean, the whole game, it shouldn't come down to that. [The referee] is standing right there. I've watched it numerous times now. Those are the types of hits that we're trying to eliminate from our game.

"It's just too bad that it had to end that way. It's frustrating because it's right there. The play is right there. He's looking right at it. The league can look at it if they want, but I've watched it four or five times, maybe more, and it's just frustrating it had to end in that particular way with a head shot."
A suspension doesn't help the Isles nearly as much as a simple penalty would have, but it's obviously too late for that. Capuano brought up recent suspensions for hits by Brooks Orpik and Kris Letang as context, but that's a stretch—I won't say Boyle won't be disciplined, because who knows, but his hit wasn't in the same league.