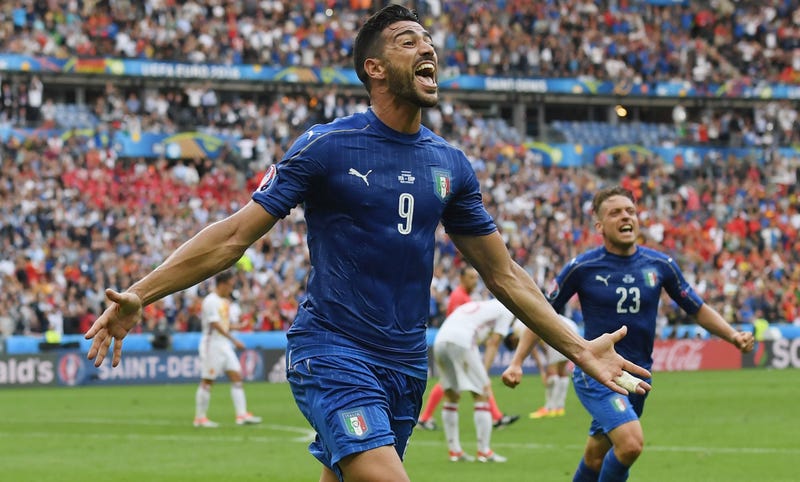 It says something about the outrageous quantity of quality Spain have that even late on in a match in which they had been thoroughly dominated by a famously talent-poor Italian team, it still felt like they'd somehow snatch an equalizer and at least force extra time. Instead, Italy continued pressing back the Spaniards as they had all game, and right as Spain were starting to get into the attacking groove and might've leveled the score, Graziano Pellè thumped in a second goal and officially killed off the reigning Euro champions:
Despite the largely misguided "Death of an Era" eulogies that accompanied what had been a historically dominant Spain team—they won Euro '08, the 2010 World Cup, and Euro '12—after the debacle in Brazil two summers ago where they failed to get out of the World Cup group stage, everyone still expected Spain to give a serious title push this time around. From top to bottom, they still have the best collection of talent anywhere in the world. Even if you could quibble with some of manager Vicente del Bosque's selection choices and starting lineups, you'd figure that a group made up largely of studs from Barcelona and Real Madrid and Atlético would be too strong for all but maybe one or two other squads they'd run into this tournament.
On the other side of this blockbuster Round of 16 battle were Italy, whose name—it's Italy!—far outstrips the actual talent available on their roster. This is a team with so few stars that there was seriously some thinking that the coach, Antonio Conte, might have erred in not bringing two MLS players into the fold. However, since the Euros began, Italy have greatly outperformed expectations. What they lack in raw ability they make up for in commitment, coordination, and a shared schematic vision on how they need to play to maximize their strengths and limit their vulnerabilities. Italy have looked like one of the few complete teams in the tournament.