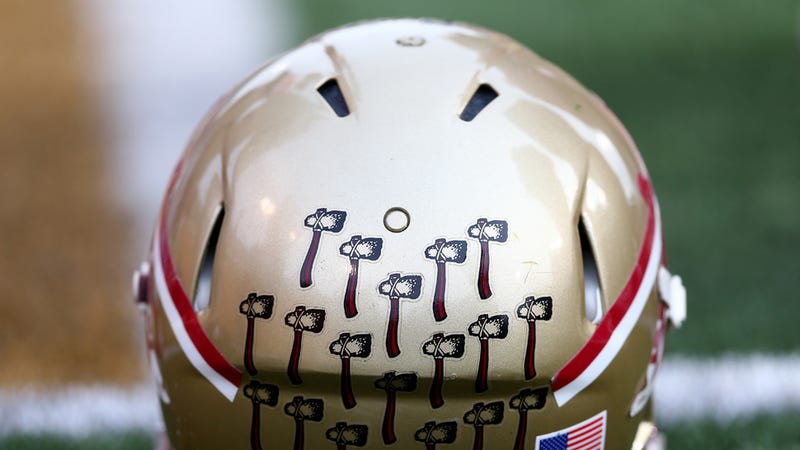 We love the game. We love the players, too, even when they scare us.
Like the blue-chip defensive secondary leader who wrote his personal essay for an openly gay professor on the time in high school he gleefully commanded a posse to bash a girly fag near to death, caved the queer's face, and ruined his smile.
Or the hulking offensive star who brought a friend to help him corner a short, pretty instructor alone in her closet office and scare her within an inch of her life for telling the athletic department he was clowning in class.
Or the top offensive player who sought tutoring from me on a plagiarized paper while tweaking on uppers. Or the standout lineman who never showed for my lectures or turned much in except for a term paper written in someone else's voice, then magically disappeared from the class roll when I resisted the team handlers who pressed me not to fail him.
These guys are all starters at Florida State University. They're probably going to play for the national title; they're almost certainly going to go high in the NFL draft. None of them is older than 22, and they already have longer Wikipedia entries than anyone on the FSU faculty.
My colleagues and I—writers and teachers of writing—are on that faculty. Most of us are Seminole fans as well as teachers. We've dashed off tributes to the game and the players—some conflicted, some not.
We love football, and we really love winning, and while we might be pseudo-intellectuals who idolize tweedy, critical theory-spouting professors, we hate it when they denigrate the game's presence on campus. We want to do right by these players. One of mine was from a sugarfield shantytown best known as the AIDS capital of the state. I hope he never goes back. "You're like, 'Fucking A, man, this is awesome,'" my co-worker Derek says of teaching big-name players. "You're part mentor and part fanboy." (The names of the FSU instructors in this story have been changed to protect their identities and the identities of their students.)
But we're increasingly flummoxed by the football culture surrounding Tallahassee, one that's grown malignant with the wins and the scrutiny, like a traditional Islamic country turned radical and defensive, its craziest pilgrims whirling around Doak Campbell Stadium, the black cube at the center of their Mecca. It's a culture that tells these adolescents that their highest calling is to sacrifice their bodies in the grassy shrine, that all else is distraction. It's the same culture that's now undergoing paroxysms of wild paranoia to spin Benghazi- and Trayvon-style conspiracy theories that might explain these obviously baseless allegations against Jameis Winston, the teenager whose prophetic power can reduce old white men to joyful sobbing.