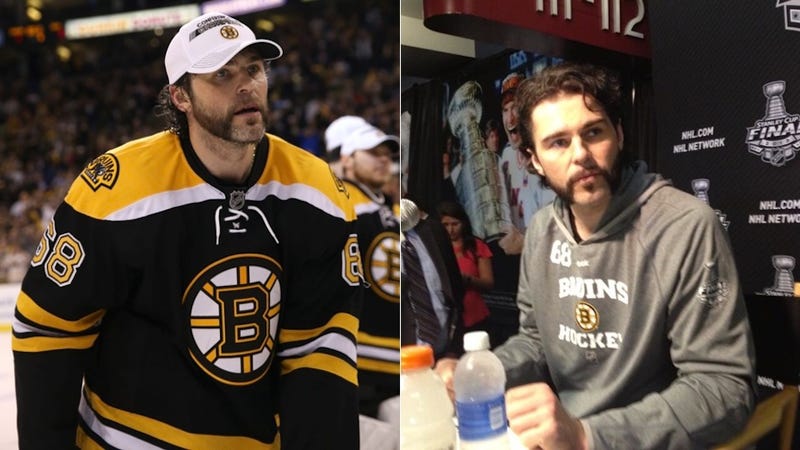 There are some things Jaromir Jagr is unmistakably great at. Playing hockey, for instance—which Jagr does especially well, even now, at the age of 41. When he puts his hips out and leans forward, with his body between the defender and the puck, no one can dream of filching possession. He may have been the greatest post-Gretzky forward.
There are also some things Jaromir Jagr is unmistakably bad at, paying taxes among them. But we're here to talk about his hair. The homegrown-Davy-Crockett-hat mullet tarnished his first few years in Pittsburgh. He got things semi-together late in his career, but not together enough to prevent this devilish thing from happening.
Thanks to this year's deep Bruins playoff run—his first trip to the Stanley Cup finals since 1992—Jagr had a chance to put together a real playoff beard. And it is not so great. It's David Ortiz's chinstrap, minus Ortiz's soft jawline and dark skin, which make that particular beard work in the first place. Now that Jagr has shaved off all the stubble and dyed what was left (see the photo from today; right), the thing looks glued on. It reminds one of the beard belonging to late TV pitchman Billy Mays.
It's not concordant with the spirit of playoff hockey. But it is quintessentially Jagr, so much so that he defended his style choices at the team's press conference today:
Jaromir Jagr just predicted that mullets like he used to have in the 90's will come back in style.

— Chris Johnston (@reporterchris) June 11, 2013
Jaromir Jagr said he dyed the grey out of his beard. "You've got to look tough."

— Chris Johnston (@reporterchris) June 11, 2013
The games start Wednesday. That is, if they haven't started already.