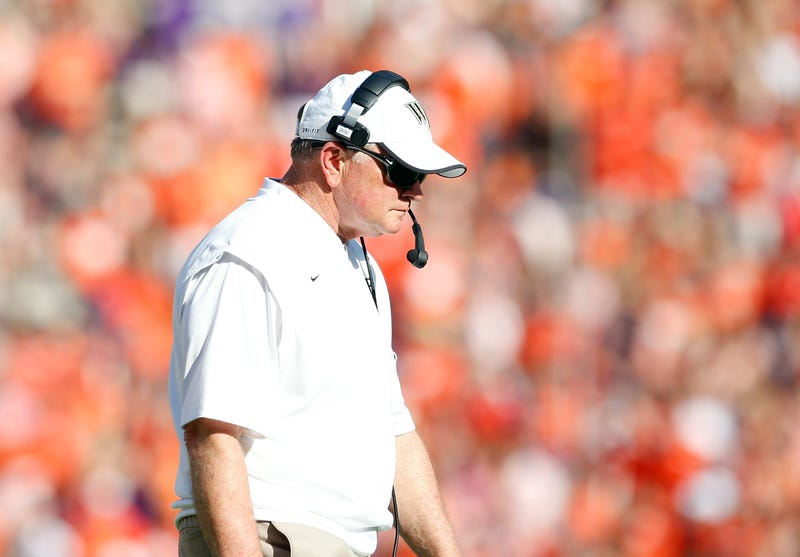 Given the Baylor sexual assault scandal and its subsequent fallout, Big 12 media days were always going to be the most interesting and anticipated event leading up the college football season. Unfortunately, things have more or less played out exactly how one could and should have expected, with new head coach Jim Grobe taking his turn to shovel some bad takes to the media Tuesday.
Grobe—a notably good coach at Wake Forest and personally well-regarded within college football—was brought in after Art Briles and Ken Starr (yes, that Ken Starr) opted to ignore the complaints of women victimized by Baylor football players for years. Today, Grobe had to answer for the actions of his new team's old coach; you can read the full transcript via The Dallas Morning News.
As a nice tone-setter, we'll start with Grobe's response to a question asking, "How daunting is this task for you to come in and try to continue that while also changing the culture off the field?"
We talk so much about changing the culture. That's not the deal with these players at Baylor. I think most people understand this. The majority of our kids are great kids. I mean great kids! It's a shame when a few guys can really hurt a large group of people in such a devastating way, really. So from our standpoint, what I want to do is let people know that the majority of our kids are fantastic kids and their programs, the problems that we're dealing with at Baylor or have dealt with at Baylor to this point are probably problems at every university in the country. I hate to say every one, but I'm guessing most universities are having some of the same issues we've had at Baylor. You can make a call as to whether you think Baylor was too strong in the way they dealt with it. Unbelievably, I've had people tell me they don't think they dealt with it strongly enough.
The kids could very well be great! I have my well-founded doubts, but still, I will believe that out of 70 athletes, some or a lot of them probably are great. What I will not believe is that "most universities are having some of the same issues" Baylor currently finds itself facing. Yes, every university and college in America has to deal with sexual assault, just like every town, city and county in America must. However, it would be hard—and terribly sad—to believe that "most" of them handle reports of sexual assault the way Ken Starr did, by (for instance) ignoring emailed allegations of sexual assault and later admitting to possibly, maybe seeing said emails when asked by a reporter with a live camera.