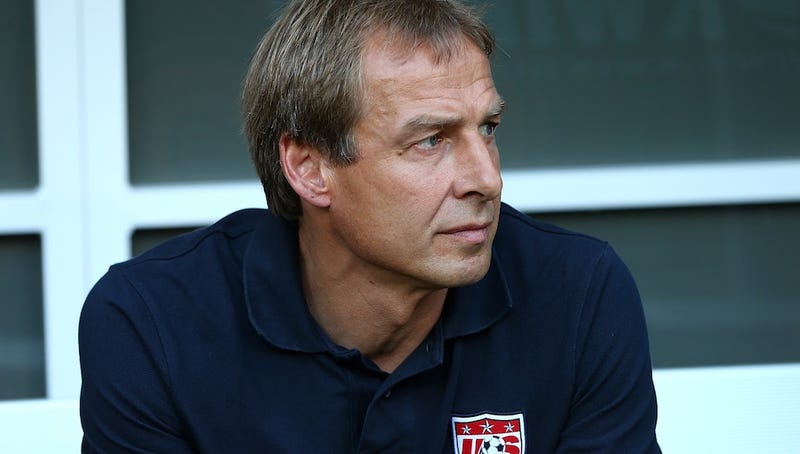 The United States are playing Costa Rica in a World Cup qualifier tonight, and it's a big deal. The USMNT is first in their group, and a win would all but guarantee their place in Brazil next year. If some other results go the the right way, they could even clinch this evening. They've never won a qualifier in Costa Rica, but U.S. Soccer is also riding a program-best and current world-best 12-game winning streak. They're on a high. Their players are not only in form, but are playing with a confidence that we've never really seen before. You could argue that the future's never looked this bright for the squad.
The main attraction of the match may be that the team will finally be stitched together again as the USMNT makes its slow, inevitable journey to the 2014 World Cup. Earlier this year, the squad was essentially split in two: the starting squad, who competed in early World Cup qualifiers, and the B-team, who ran roughshod through the Gold Cup. Some players who participated in the Gold Cup squad, like Eddie Johnson, Demarcus Beasley, and Kyle Beckerman, showed well enough to make this new, more final squad. Landon Donovan's back from exile to again link up with Clint Dempsey, Michael Bradley, and Jozy Altidore (if fit), and he's still the best American to ever kick a ball. Technical forward Aron Johannsson snubbed Iceland for the United States. Promising German center back John Brooks is on the bench, and he'll officially be a USMNT player for life if (read: when) he gets subbed on. The boys look deep right now. They look capable. They look nothing like the team from earlier this year, or from years past.
This is one of the best American teams ever, playing the most attractive and successful brand of soccer we've ever seen. But when you look at the pool, you'll see that a lot of the players have been around for years. Some have been a part of the team for over a decade. So what exactly happened?
The improvement in how the Americans perform, and ultimately how they're perceived by their fans and by other nations, largely comes down to one man: manager Jürgen Klinsmann. When he was hired to lead the team two summers ago, he ripped the program apart. He started over. He employed different starting lineups each game, seemingly at random. He changed training schedules. A German himself, he relied more on the German contingent of players. He instituted a new style of play.
Everyone bitched. Eleven players, in particular, bitched anonymously, to the press. And then... it changed. It clicked. The United States beat Germany's B-team—still a coup—and rattled off 11 more wins. In their most recent victory against Bosnia, the United States were 2-0 down at half, but Altidore put the team on his back with a second-half hat trick, and the Americans came all the way back to win 4-3. And this is important for reasons that go past this next game, or even this World Cup run.