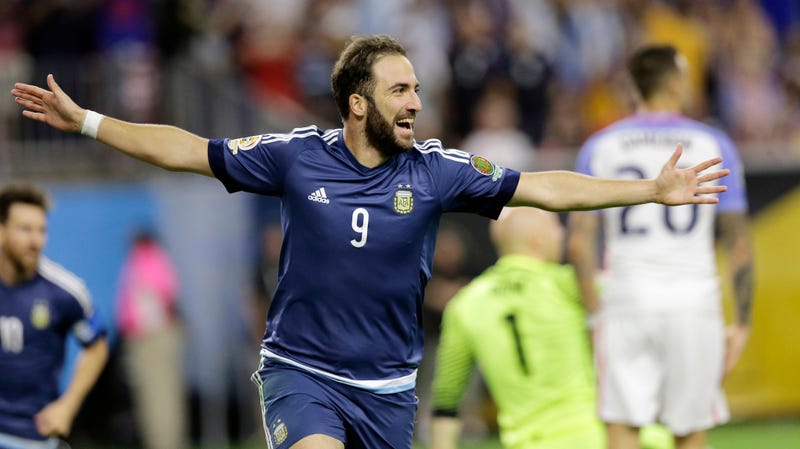 Okay, sure. When you first saw the name Gonzalo Higuaín—one part veteran, world-class, goalscoring bulldozer, one part habitual choke artist—associated with a transfer fee teetering dangerously close to the €100 million mark, you probably had to clench your eyes closed and press the palms of your hands against them so that they didn't shoot right out of your head.
"Gonzalo Higuaín?" you would've said if you still had the ability to speak. "€94 million??? The third-most money ever spent in the history of the game to buy a 28-year-old who, while being extremely good, is nonetheless not all that good, and definitely not third-highest-transfer-fee-ever good?" And while that would be a perfectly understandable first reaction to Higuaín's move from Napoli to Juventus, which has finally been confirmed, it probably fails to take into account some of the aspects that make the transfer a smart decision.
The most important question Juventus had to ask themselves was whether Higuaín made their team better. The answer to that is an unqualified "yes." In Juve's preferred 3-5-2 system last year, their most commonly used striking tandem was Paulo Dybala and Mario Mandžukić, with Álvaro Morata and Simone Zaza spelling the other two (primarily the latter). Mandžukić is a capable-though-unremarkable poacher, Morata looks like he might be a superstar in the making but went back to Real Madrid, and Zaza's ceiling for a team with Juve's aspirations is as a competent backup. Dybala is a certified all-around stud already (and likely the next bianconeri player after Paul Pogba to be linked to a potentially record-breaking transfer to one of the giants of Spain or England in the near future), but if Juventus wanted to really push for the one trophy that has eluded them during this historic run of success—the Champions League title—they needed an improvement.