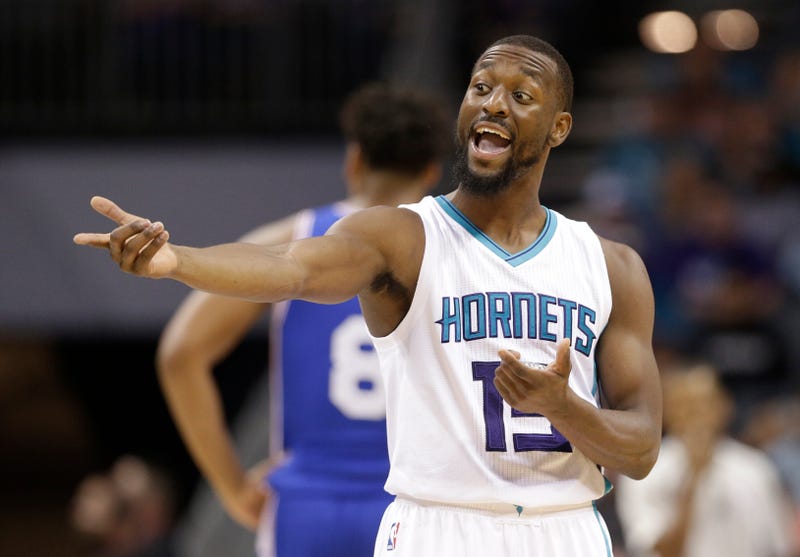 To really appreciate how far Kemba Walker has come, dust off that copy of NBA 2K12, slide it into your wheezing Xbox 360, and find young Kemba on the roster of the 7-59 Charlotte Bobcats, where he is stuck behind D.J. friggin' Augustin on the depth chart, slinging passes to the likes of Byron Mullens and Tyrus Thomas, in a godawful pinstriped navy blue uniform. Blech.
Kemba shot 36.6 percent from the floor that year. His Net Rating in just over 27 minutes per game was minus-15.1. He was dreadful. It was a Mudiayan rookie season for Walker, on a historically atrocious basketball team. Only, unlike Emmanuel Mudiay, Walker was (and is) a very small NBA player, and very small players who aren't uncommonly efficient become Aaron Brooks, if they are lucky.

His rookie season didn't doom him to obscurity—or, at least, to any worse obscurity than Charlotte, which back then was about as obscure an NBA outpost as there has ever been—but it also provided almost zero encouragement that he could be an NBA rotation player, let alone a particularly good one. And his sophomore season wasn't much better: His shooting ticked up marginally (42.3 percent from the floor, 32.2 percent from the arc) but still left a lot to be desired, and the team was still awful with him on the floor (minus-9.7 Net Rating). When you use lots of possessions on your own offense, and your own offense involves chucking up long, off-balance two-pointers, your team is going to struggle.
At what point does this become a pattern? How about the following season, when Kemba shot a putrid 39.3 percent while using up more than a quarter of Charlotte's possessions while he was on the floor, for a team whose surprising top-five defense was consistently undermined by an offense that led the NBA in long midrange jumpers, a Kemba specialty. It was in October of that season, with Walker still bricking long twos for a team that couldn't find its own ass on the offensive end, that the organization picked up the fourth-year option on his rookie contract. The math here was pretty simple: why offer an early extension to a guy who, based on his NBA history to date, was unlikely to garner a whole lot of interest as a restricted free agent, and who may not be a long-term solution at the NBA's most important position?
The Bobcats rode that top-five defense to a playoff berth, where they were summarily dumped in four not-very-competitive games by LeBron James and the eventual conference champion Miami Heat. The teams were a complete mismatch, but Kemba had himself a series, scoring 19.5 points per game on 47.3 percent shooting. More than that, though, it was an opportunity for casual NBA fans who'd gone years and years without being exposed to the sad-sack Bobcats to appreciate what it means to be the smallest guy on the saddest-sack franchise in the NBA, taking it upon himself to do all the difficult and daring and mostly doomed work of manufacturing offense out of thin air, against a bonafide juggernaut. Kemba made shots, sure, but that's result. Before the ball went in, and whether it went in or not, Kemba was electric:
That was more or less the shape of that series: Kemba would shake and dart and wiggle his way into space, knock down tough looks on the move, knife into the paint and find a teammate somewhere on the arc, and generally provide all the energy and spontaneity of Charlotte's offense. In the final game of the series, Kemba played out of his mind, dropping 29 points with an insane degree of difficulty, and bouncing and barking and fighting his ass off past the point when the game was no longer there to be had:
It was encouraging enough that the Bobcats beat the deadline for restricted free agency the following autumn and signed Walker to what now looks very much like a bargain-basement contract: four years, $48 million. And Kemba, true to form, went out and rewarded their faith with a woefully inefficient season: 38.5 percent shooting from the floor, 30.4 percent from the arc, a dismal minus-4.6 Net Rating, and 20 games missed due to injury. The team started 6-19 and finished 33-49.
If it seems like I'm laying out a case that Kemba's recent success is a mirage, and that he is actually a butt NBA player, I'm really not! The things that got him into the NBA are real basketball strengths: he's quicker and faster than everyone; his vicious handle is a serious weapon; he's got a knack for picking a fool's pocket and jumping passing lanes; and he is absolutely fearless.