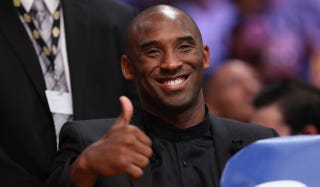 It looks like Kobe Bryant is going to be a Laker for life. Making a move that nobody was really expecting, the Lakers just announced that they have signed Bryant to a two-year extension, and he didn't come cheap.
ESPN Los Angeles' Ramona Shelburne reports that Kobe will make $23.5 million next year, and $25 million the following year. As things stand now, Kobe will be the highest-paid player in the league over the next two seasons.
In case you somehow forgot, this is a 35-year-old shooting guard who is still recovering from a torn achilles tendon, an injury that is very difficult to fully recover from! It's certainly possible that Kobe returns from injury and plays at a high level for the next two years, but it's also just as likely that the Lakers have just plunked down $48.5 million for the most expensive farewell tour in league history.