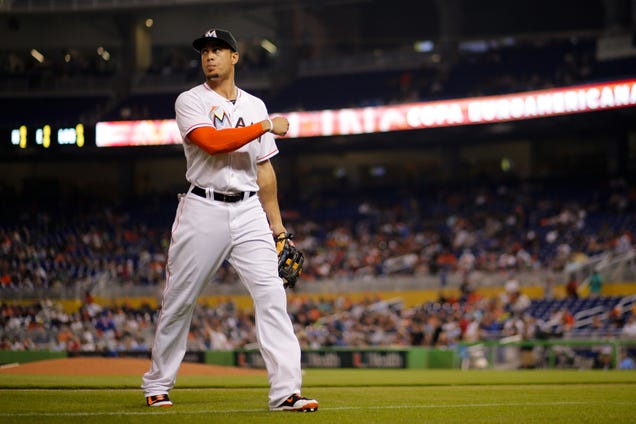 In today's leak of the Astros' internal trade chatter, the biggest bombshell was mention of Marlins slugger Giancarlo Stanton. Here's how it was worded in the Astros' system:
[Luhnow] talked to [Marlins GM Dan Jennings] and said we had interest in Stanton. DJ said he doesn't think he'll trade Stanton and the only deal he could think of from us that would work would be Springer and Correa. JL said that would not work. JL posited a deal around Cosart and Deshields.
That doesn't read like anything but feeling out the market, yet the Marlins have now strenuously denied that any overtures were made:
#Marlins GM Dan Jennings says it's completely fabricated that they ever offered Stanton to #Astros or any other team calling it 'laughable."

— Bob Nightengale (@BNightengale) June 30, 2014
Well, this is interesting. Because there's zero doubt these documents are legit. (They've been confirmed by other MLB executives, and apparently acknowledged by the Astros as well.) So either Jennings is denying the authenticity of the Astros leak in the face of evidence, parsing what constitutes an "offer," or simply calling the Astros liars. And to that last option, there's no incentive for Houston executives to put made-up stories in their internal system.
Below, the full Astros trade talks.