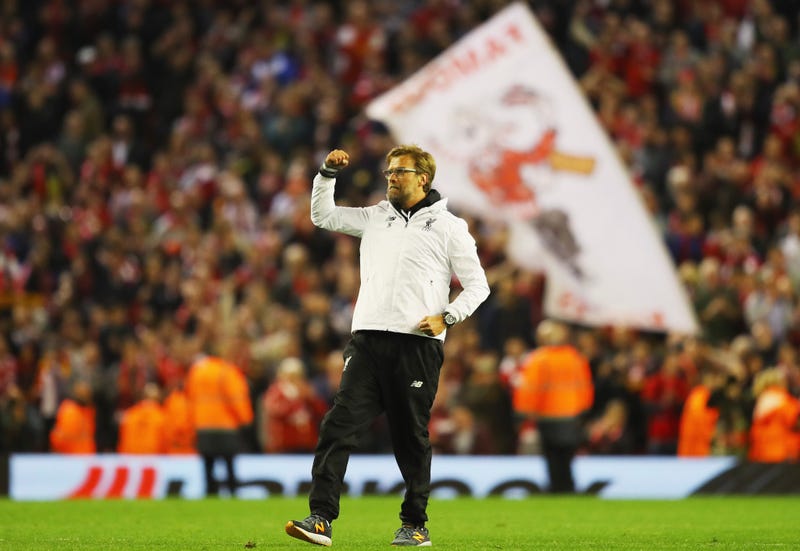 On top of the simple coup that was Liverpool—a hobbled giant with more history and entitlement-fueled expectations than recent glory or near-term promise—nabbing one of the handful of truly special managers in the game, a big part of what made hiring Jürgen Klopp to take over at Anfield such a tantalizing prospect was how perfectly he'd mesh with the fan culture. Here was soccer's preeminent madman, almost as famous for his wild gesticulations and volcanic sideline eruptions of anger and glee as he was for his actual managerial genius, coming to lead probably England's (and, therefore, the world's) most fervent, fiery, boisterous, and irascible fan base.

His resumé alone would be enough to gain these fans' trust, something they had very little to offer after nearly a decade of empty promises and faulty plans about How To Make Liverpool Liverpool Again. His tactical brilliance, leadership, style, and the results those things would inevitably bring would make them believe him. And his personality, so befitting of what they crave in a manager, would make them love him.
We've already seen Kloppo's endearing nature win over fans and neutrals during his Liverpool stay. He's been funny, funnier, cute, ecstatic, pissed, inspirational—the whole gamut. For a few reasons, his celebrations before and after Liverpool's huge win over Villarreal yesterday, which put them into the Europa League final and one step away from the Champions League, was arguably the pick of the bunch:
The video above collects all of Klopp's famous faces as he stomps around arguing with officials and even the opposing manager, screams instructions at his players, makes that weird Kobe-like underbite face when he's mad, almost collapses in disappointment when a good chance goes begging, and sends his fist crashing through the jaw of the invisible demon he's boxing with when Liverpool score. It's as wild as he always is in big games, and it's great fun just watching him react.
The best moment comes towards the end, right around the two-minute mark. With the victory in hand, Klopp has made his way onto the pitch to celebrate with the players and bask in the joy that has enveloped the stadium. As he walks around thanking the fans for their support, he leans into a couple big fist-pumps. With each swing, the crowd erupts in a big "Hey!" Catching on, there at the center circle, that every eye in the stadium is trained on him, he starts playing it up. He faces another side of the stands, cups his hand to his ear, then swings again. "Hey!" He swings again. "Hey!"