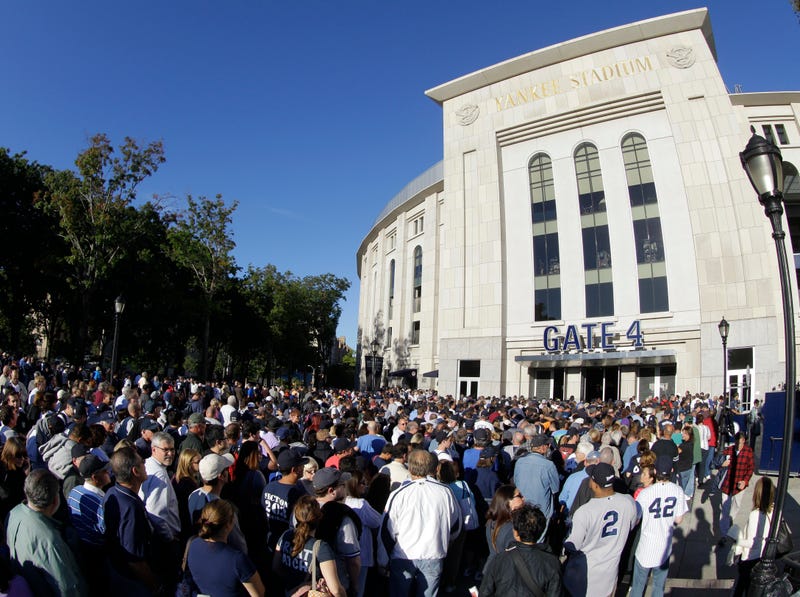 It is Mariano Rivera bobblehead giveaway night, and the Yankees do not have any Mariano Rivera bobbleheads to give away.
On one of the most anticipated promotions of the year, the Yankees have apparently not received their shipment of bobbleheads. There was confusion outside the stadium earlier this evening, as the team initially planned to keep the gates closed until the bobbleheads were on site, but as game time inches closer the Yankees have decided instead to distribute vouchers t0 the first 18,000 fans through the doors.
The great Bronx Bobblehead Clusterfuck, as it happened:
Apparently, on Rivera Bobblehead night, the bobbleheads aren't at the Stadium yet, and the team won't open the gates until dolls arrive. Fun

— River Ave. Blues (@RiverAveBlues) September 24, 2013
Yankee Stadium for Mariano Bobblehead night & they arent opening the gates! Just people starting to get angry! pic.twitter.com/8jhNTGvEsH

— Mark Lopez (@marknlopez) September 24, 2013
In a sea of Yankees fans..all because of Mariano Rivera bobblehead day #Insane pic.twitter.com/WnB1IaaAgo

— Kevin Rozell (@Zellyanks) September 24, 2013
Who wants a @MarianoRivera bobblehead a today's @Yankees game??? #yankees @mlb #mlb #ExitSandman pic.twitter.com/swY3MokN5j

— Sean T. McMann (@JournalSean) September 24, 2013
@RiverAveBlues it's starting to get really packed by the Babe Ruth Plaza pic.twitter.com/sSw9C8e7eg

— Andrew Harts (@AndrewHarts) September 24, 2013
Mariano Bobblehead not here.. Waiting for a voucher...#mariano #bobblehead pic.twitter.com/IQlLutlISI

— Janelle Hartman (@janhart26) September 24, 2013
CRAZY lines for Mariano bobblehead. Gates opened late, D train messed up. #Yankees #Sandman pic.twitter.com/ZZW1EdFnWN

— Sooze (@soozenyc) September 24, 2013
Bobblehead panic starting to set in at Yankee Stadium. Gates not open yet. pic.twitter.com/WjrfzALq9W

— Amanda Rykoff (@amandarykoff) September 24, 2013
The crowd outside Yankee Stadium, where there aren't Mariano Rivera bobbleheads and fans are getting vouchers instead pic.twitter.com/WXhuquFGlW

— Jesse Spector (@jessespector) September 24, 2013
#Yankees Stadium staff taking picture of the bobblehead line at Gate 4. pic.twitter.com/o9utYse0on

— Sean McNally (@SeanMMcNally) September 24, 2013
New York's Finest doing a great job holding up that stand as everyone cuts the line. Fucking asshole. #Yankees pic.twitter.com/pGL0TEU5Br

— Steven Ferrezza (@Sandman527) September 24, 2013
Here's an exclusive pic of my new mariano Rivera bobblehead pic.twitter.com/q9DoG7rFvq

— IsaYankeeDiva (@IsaYankeeDiva) September 24, 2013
Update, 8:20 p.m.: A Yankees spokesperson gave an explanation for why the bobbleheads were late arriving, and yes, they were 3,000 miles away as late as yesterday.
On Monday, on the trek from Seattle to New Jersey, there was a train issue in Chicago that disrupted the first leg of the journey for the 18,000 little Marianos. Still, the Yankees were hopeful the figurines would show up on time. On Tuesday, a truck that was scheduled to make the final delivery to the Bronx suffered a hydraulic problem, causing a further delay and forcing the Yankees to make a decision.
In the third inning, the Yankees announced they would start handing out the bobbleheads in the stadium. More lines.
The line for bobbleheads stretches from the main level up TWELVE ramps nearly to the upper deck. MAJOR failure by the @Yankees.

— Rob Iracane (@iracane) September 25, 2013
@JoeandEvan line for Mariano Bobblehead goes all the way to the top of Yankee Stadium. @Deadspin pic.twitter.com/nNsPm7wSE5

— Drew (@_SwarlesBarkley) September 25, 2013
Just look @ this sea of humanity to get Rivera Bobblehead. #YANKEES pic.twitter.com/RjzA5c0j1P

— Jeff Rothman (@amazingjr87) September 25, 2013
@Deadspin the line for Mariano Rivera bobble heads goes up to the top level @Yankees stadium pic.twitter.com/9XPwlBP96R

— Allyson Pavone (@allypavone) September 25, 2013
The line for Mo's bobblehead... Thanks @ChopperDanRice pic.twitter.com/A08UHgtpgg

— Rob Powers (@RobPowers7) September 25, 2013
A video of the chaos, sent to us by Anthony:
And quite possibly the worst insult:
Just saw Yankees executives personally handing out bobbleheads to folks inside the moat in the Legends seats because why not?

— Rob Iracane (@iracane) September 25, 2013