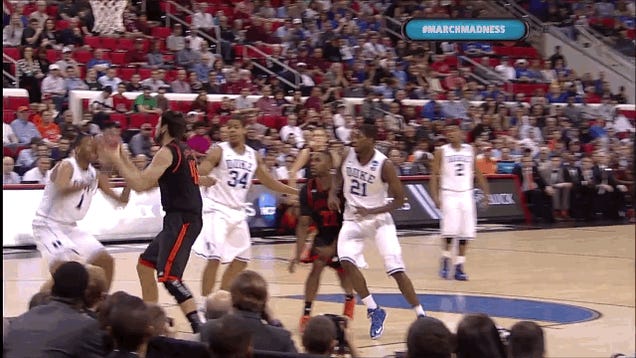 Mercer big man Monty Brown suffered a concussion yesterday and played only four minutes in the Bears' huge win over Duke. Brown was held out of the game after the hit you see above and will not play tomorrow. Rachel Nichols also reports that Brown can't remember anything about the game.
Mercer C Monty Brown will miss Bears' game vs Tenn due to concussion suffered vs Duke. Staying in dark room; doesn't remember game at all.

— Rachel Nichols (@Rachel__Nichols) March 22, 2014
After suffering the hit, Brown was said to be handling the training staff's questions "OK," but he was having trouble keeping his balance. Mercer plays Tennessee tomorrow at 6:10 p.m.
[CBS]