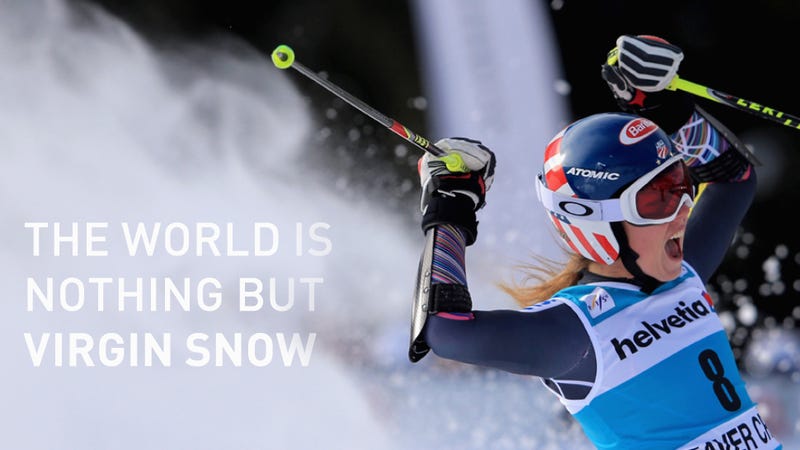 Mikaela Shiffrin's style is sure-footed and rhythmic. Like the best slalom skiers, she sets up her turns high. She thinks a few turns ahead. And Shiffrin—who in Sochi last winter became the youngest racer ever to win Olympic gold in slalom and who thus spent several days as a cheery, effervescent staple of NBC programming—always looks calm. Even when a few hundred million eyes are on her and she's in the middle of a rare, but potentially devastating, mistake, as happened at the Olympics in February.
Not true, the 19-year-old says, laughing: "Pretty much every single run, in any race, ever, I'm scared to death."
She backpedals a moment later, perhaps embarrassed by her hyperbole. If nerves arise, she clarifies, it's when she's in the starting gate; it's that right-before-the-curtains-open feeling that will be familiar to anyone who has ever performed on stage or competed in a sport.
But Shiffrin has learned to fight that fear. If she lets in any anxiety at all, she says, it snowballs. So she uses a visualization technique. "I think of [my nerves] as these little, like, pellets that people are throwing at me. If I let one pellet hit me, then all the sudden the whole wad of them comes," says Shiffrin, who in the 2013-14 season alone competed in 16 World Cup races, placing in the top three in eight of them. (This season, she clinched a gold in her very first race.) "So whenever I start to feel nervous I'm like, Oh, put the shields up! And think about something else—anything else—just think about something else! And then I can block them again."
In the course, her anxiety is replaced by something else: self-laceration.
"When I'm in the course, I'm constantly saying stuff like, Crap, you just screwed up that turn, why'd you do that. Ah, you're so slow," she says, laughing. "I'm thinking the most negative, derogatory things— like, Your hair is probably all gross, too. It's my Mikaela-bashing time."
High-level racing is a neurotic's sport. It's about failure, about anticipating failure, about working around both the anticipation and the failure itself, which is of course inevitable and sometimes quite violent. Given how hard she is on herself, it's not surprising that Shiffrin is a skier who doesn't like mistakes. Not that any racer does. But some athletes—Bode Miller and Lindsey Vonn, most famously—have a much higher tolerance for error, and as a result they're more comfortable with taking the kinds of risks that can lead to big crashes as surely as they can to big wins. Not Shiffrin. "She never falls," her mother, Eileen, says. "When she does, we all go …" She mimes a face of terror.