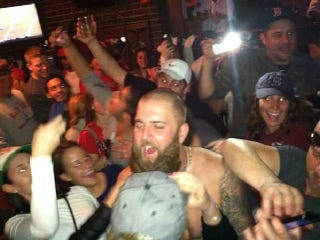 A priceless photo of a shirtless Mike Napoli smoking a butt and roaming the streets of Boston surfaced Saturday night, but how did he get to that state? Here's a crude timeline, starting after the Red Sox championship parade ended.
While Napoli was at McGreevy's on Boylston St., he still had his shirt on. In fact, he even wore a coat at one point, as evidenced by these first (blurry) photos.
In the afternoon, Napoli started bartending at McGreevy's. Mike Napoli is a man of the people.
H/t to hugesunglasses