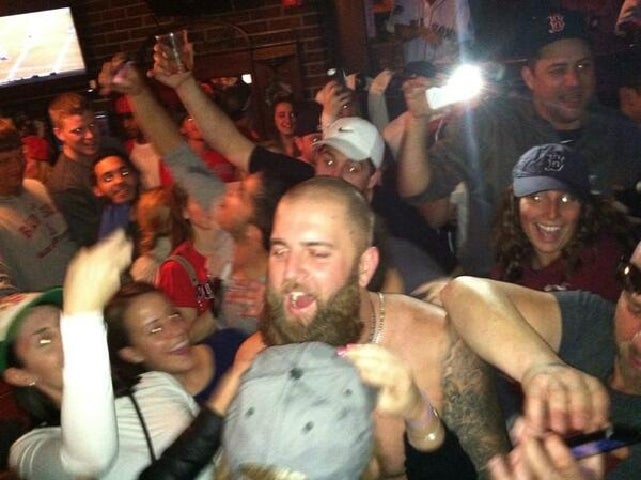 A priceless photo of a shirtless Mike Napoli smoking a butt and roaming the streets of Boston surfaced Saturday night, but how did he get to that state? Here's a crude timeline, starting after the Red Sox championship parade ended.
While Napoli was at McGreevy's on Boylston St., he still had his shirt on. In fact, he even wore a coat at one point, as evidenced by these first (blurry) photos.
In the afternoon, Napoli started bartending at McGreevy's. Mike Napoli is a man of the people.
My friends are currently at a bar taking shots with Mike Napoli from the Sox god dammit pic.twitter.com/9RKapvs3el

— Eric O'Brien (@OBiiieeee) November 2, 2013
H/t to hugesunglasses
Yes the champs are here. @MikeNapoli25 is pouring shots of Fireball. #WeAreBoston #Boston #GetBeard #RedSox #NufCed pic.twitter.com/KBKrtYcqTz

— Nuf Ced McGreevy (@McGreevysBoston) November 2, 2013
Yeah, Mike Napoli did just spray me with beer at McGreevey's #LivingTheDream

— Silky Johnson (@realchrismason) November 2, 2013
Mike Napoli mixing it up at McGreevy's in Boston #redsox #worldseries #foryouboston pic.twitter.com/eaugv6VqEj

— Cape Cod Times (@capecodtimes) November 2, 2013
Later in the night, Napoli surfaced at Daisy Buchanan's on Newbury St. It's a four-minute walk from McGreevy's, according to Google Maps. Somewhere along the way, Napoli lost his shirt.
@GerryCallahan pic.twitter.com/2LZ8RZX3Yk

— Steve Thompson (@StephenJThomps) November 3, 2013
I could see @BrandonSpikes55 bartending shirtless after he wins a super bowl like @MikeNapoli25 tonight! pic.twitter.com/c2f1klLa06

— Tara Elizabeth (@tara62284) November 3, 2013
Napoli just became Daisy's newest bartender! #napoli #drunkenmess #epicnights pic.twitter.com/jfDIOBCUZ4

— hilary baker (@hbaker311) November 3, 2013
Someone should probably get Napoli a gallon jug of water today. Meanwhile, let's check on fellow champion Shane Victorino.
@OnlyInBOS So, what does #ShaneVictorino do after a parade? Well, groceries at #Shaws, of course! pic.twitter.com/tu0zFlRhNQ

— KPTME (@TrueNE_79) November 2, 2013
Shane Victorino went grocery shopping in sandals.
If you saw any Red Sox players having a grand old time, let us know.
Update: Here's some video of shirtless Napoli lumbering around.
Top photo: @StephenJThomps