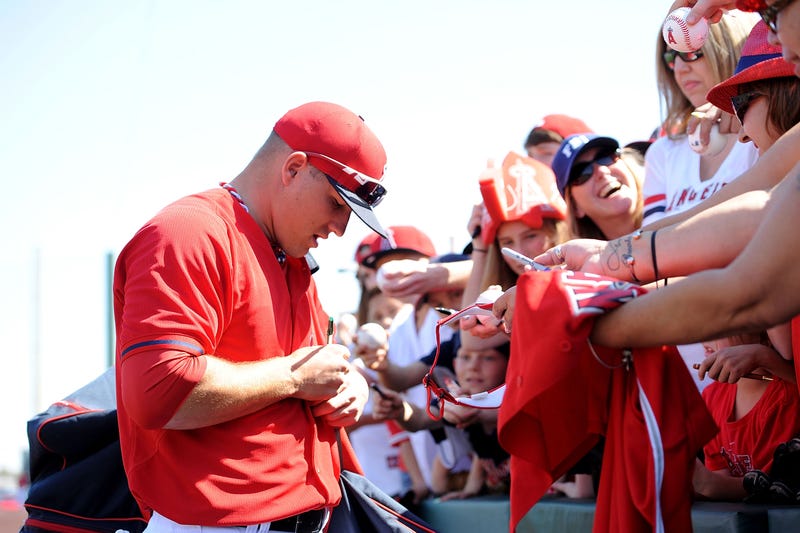 The new ESPN The Magazine has an anonymous survey of 143 current MLB players, and 56 percent of them peg Mike Trout as the best player in the majors. Miguel Cabrera got 26 percent of the vote, and Clayton Kershaw got six percent. But they don't think he's that much more valuable, which isn't exactly a new development, and certainly wouldn't pay him the crazy figures a lot of baseball nerds have been predicting:
If Mike Trout were a free agent, what salary would you pay him? What about Miguel Cabrera?
Average answer for Trout: $27.8 million per year
Average answer for Cabrera: $27.3 million per year

NL outfielder on Mike Trout: "What he's doing is sick. I'd pay Trout $1 more than Cabrera, whatever that would be. The numbers Trout has put up the past two years are about as good as you'll ever see, and Cabrera is right there with him."

AL reliever on Miguel Cabrera: "He's transcended the game from a hitting aspect and made a position change two times in the last few years."
To refresh: Most projections have Trout worth a market value of somewhere in the $50 million range next season. But the highest salary in baseball last year was A-Rod's $29 million, followed by Cliff Lee's $25 million. The $27 million numbers for Trout and Miggy could represent any number of things—the psychological limit MLB players operate under with regard to salary numbers, rattling off numbers that make sense as a "top of the class" free agent, just not bothering to go into much detail while answering an anonymous survey, etc.—but it's still fascinating that they pegged them right down the middle.
Probably the most representative of the answers, though, was the one to which player they'd want most for the next three years. Trout came in at 45 percent, followed by Kershaw at 25 percent and Cabrera at 9 percent. So if you're looking for one player to give a massive extension to, the MLB players are in agreement with the Angels.