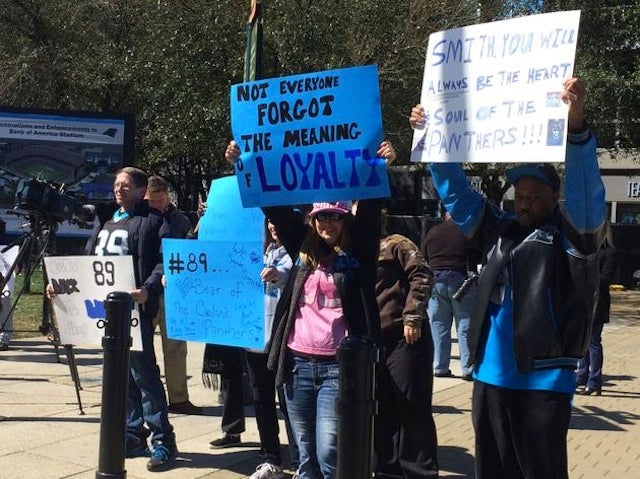 As expected, the Panthers announced the release of veteran wide receiver Steve Smith this afternoon. (Presumably they told an intern to break the news to the temperamental Smith, then quickly left the building.)
"Steve Smith has been one of the NFL's finest receivers for over a decade and has been the face of the franchise for a large part of the team's history," GM Dave Gettleman said in a statement. "This was not an easy decision. As a team, we made a step forward last year; however, we are also a team in transition, which is a part of the NFL."
Smith's production fell off a cliff this season, and with a $7 million cap hit for 2014, this was an inevitability. But after 13 seasons, it's so hard to say goodbye. Some hardy Panthers fans have gathered outside Bank of America Stadium for a "Save Smitty" rally. We take you to the scene!
[Top photo by Chris Littman/Sporting News]
There are fans protesting to #SaveSmitty outside of Bank of America stadium. pic.twitter.com/x5A8JH4UNf

— Kami Mattioli (@kmattio) March 13, 2014
"It's terrible, it's just not right!" Brian Stewart #panthernation #ThanksSmitty pic.twitter.com/6J6xPT3Bqd

— Mike Hanson (@mikehanson28210) March 13, 2014
Another sign at #SaveSmitty rally... These fans out here are really taking @89SteveSmith being cut personally pic.twitter.com/3VFnohrHnP

— Dianne Gallagher (@DianneG) March 13, 2014
Fans outside the team store. pic.twitter.com/p3veTVwbDr

— Mike Hanson (@mikehanson28210) March 13, 2014
#BREAKING: Fans have gathered outside BoA Stadium to show support for @89SteveSmith http://t.co/LOOnFIcrBM #panthers pic.twitter.com/5VyjZ1CdBL

— WCCB Charlotte (@WCCBCharlotte) March 13, 2014
#SteveSmith protest still going. They're hoping 89 will stop by. @89SteveSmith pic.twitter.com/wqq57sPYiB

— Mike Hanson (@mikehanson28210) March 13, 2014
If the photos don't get the sentiment across, this tweet is pretty much perfect.
The 15 or so supporters at the #saveSmitty rally are chanting #iceupson. A couple people left, remarking "it's too cold out here"

— Dianne Gallagher (@DianneG) March 13, 2014