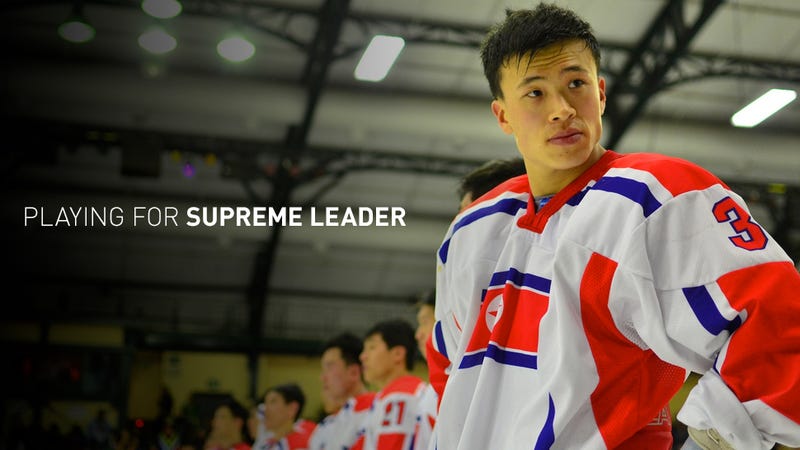 CAPE TOWN, South Africa—This is what a North Korean postgame press conference sounds like:
"Today is the birthday of the Great Ruler Kim Il-sung whom all people in the world can't help but admiring. So, even though we were very tired due to the long trip, we ran and ran with the only desire to make a report of a win to the generals and to the Ruler Kim Jong-un in my home country."
Team captain Ri Choi-min eyed the ground, shifting his weight from one foot to another. He'd started speaking without taking a question, as the team's manager, dressed in a thin gray suit with a button of Kim Jong-un's face on the lapel, translated his words into English.
I asked them how the team was preparing for the next game.

"We don't like talking much before the game so let's talk later once the results are in."

With that, they walked out.
North Korea had just beaten the United Arab Emirates 5-3 in the opening game of the IIHF Division III World Championships. The tournament, held in Cape Town, South Africa, was made up of countries you wouldn't expect to play hockey: North Korea, Greece, Ireland, the U.A.E, Luxembourg, and South Africa. Division III is the lowest grouping of teams in the world, the sixth of six levels of hockey under the IIHF. I'd say the best high school teams from Minnesota, my home state, could beat or at least compete with these squads.
When the North Korean players entered the GrandWest Casino arena for the first time, they looked more like soldiers than athletes. The players walked in single file, uniformly spaced, wearing red jumpsuits of a cheap polyester blend, each with a small, ironed-on North Korea flag on the front right breast and "DPR Korea" spelled out across the back.

The press conference was what you might predict from a North Korean team–a shoutout to the memory of the country's deified founder and a nod in the direction of the current leader; every game is expressly being played for his pleasure. At some point for me, like most Americans, North Korea became the catch basin for all the 1980s Cold War stereotypes about Soviets and Communism—self-imposed isolation; militant, unforgiving culture; strictly observed humorlessness. That was why I came to Cape Town in mid-April: to attach myself to the North Korea team and see how my expectations matched the reality.