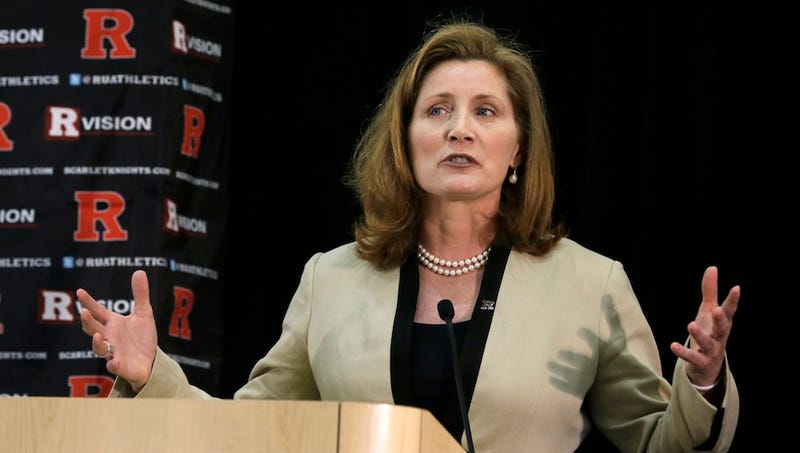 Today, the Star-Ledger published an op-ed from Rutgers's newly-appointed senior vice president and general counsel, John Farmer Jr. He attempts to defend the hiring of their new athletic director, Julie Hermann, a hiring which, as we've so diligently chronicled, is probably indefensible. And well...where to even begin?
Before we get to the actual text—which is shoddy and well worth a read, though more on that anon—we should first point out that there was very little to be accomplished by a newly-hired, high-ranking Rutgers employee writing a piece in support of a hire. Rutgers is paying Farmer a lot of money, and has been doing so for a relatively short amount of time. A show of support from a guy with a Clydesdale in the race doesn't, or at least shouldn't, do Rutgers or the public any good. His opinion is moot. With that out of the way, let's dive in.
Farmer starts off by reminiscing on Bill Clinton, which immediately strikes us as odd:
Two decades ago, American voters faced a difficult choice for commander in chief. Many were captured by the vision, competence and charisma of Bill Clinton, who had served for more than a decade as attorney general and governor of Arkansas.

Support for him was tempered, however, by his difficulty in answering questions about his youth. In particular, the putative commander in chief prevaricated about his enlistment and resignation from the National Guard, and he strained credulity by claiming that although he had tried marijuana, he "didn't inhale."
We don't know where this is going, but we like Bill Clinton, and the "didn't inhale" line is a piece of American history and ingenuity in its own right, so let's read on.
In the end, the general public supported Clinton for president, not because we approved of his stumbling misstatements, but because in the years since his youthful missteps, he had established himself as a dynamic and innovative public servant, worthy of the opportunity to serve in the White House.

Like Bill Clinton, Julie Hermann, the new Rutgers athletic director, has struggled to answer questions about the events of years ago, most significantly the circumstances surrounding her time as coach of the 1996 University of Tennessee women's volleyball team.
And on the surface, that's a good point. Bill Clinton turned out to be one of the most beloved, successful presidents in the history of this country, just as it's possible that Hermann will turn out to be a bitching athletic director. But to compare Hermann to Clinton is to miss out on the most vital point. Clinton was asked questions about his past. He was vetted. And ultimately, the American public decided that his spotty past with the National Guard and smoking weed cigars likely had little to do with his ability to run the country. Hermann's past experience in college sports, however, directly correlates to what we are to expect from her as an athletic director. Yet while Clinton was vetted, no one bothered to look into Hermann's past. This is how mistakes get made. This is how, such a short time after the Mike Rice debacle, Rutgers ended up with an AD who as an allegedly abusive, dictatorial head volleyball coach at Tennessee, was sued for intimidating an assistant, and as a senior athletics administrator at Louisville, was sued for firing an assistant track coach who complained about sexual discrimination.