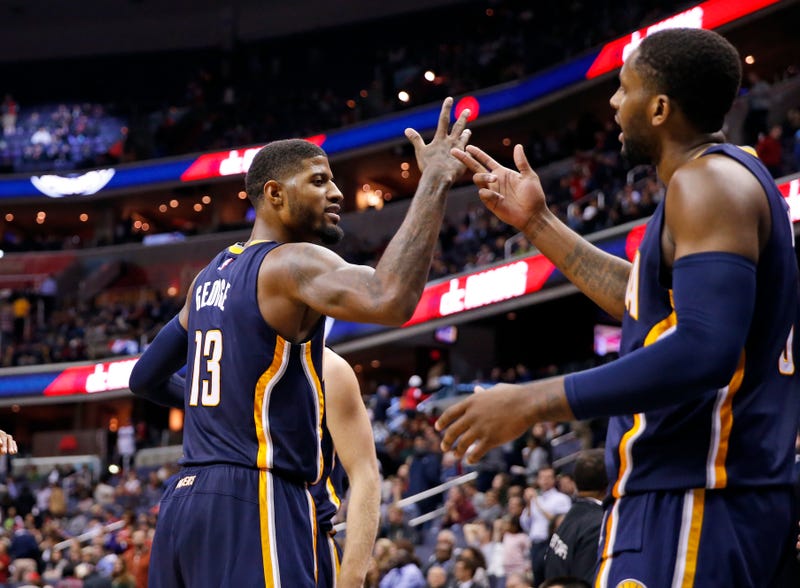 What the Pacers did to the Wizards last night should be goddamn illegal.

The raw numbers are terrifying: Indiana shot a blistering, downright unfair 19-of-26 from three-point territory. Paul George shot 7-of-8 from downtown. Not to be outdone, teammate C.J. Miles shot 8-of-9 from deep. Those aren't even video game numbers. I've got create-a-players in NBA 2K, designed specifically to never miss from beyond the arc, who haven't come anywhere close to going 8-of-9 in a game. A video game would never be so brazen.
The easy recap of the game says the Wizards just completely crapped the bed defensively, got lost on rotations, and left Indiana's shooters with acres of space to load up and bomb away. Not so! Not really the case at all. C.J. Miles scored 32 points on 16 shots—that's insane! Totally unfair—and the Wizards contested 10 of those, a good number. Miles coolly knocked down half of those contested shots. Paul George scored 40 points on 19 shots—he scored better than two points per shot—and 10 of those shots were contested, too, via the NBA's stats page. He made nine of them.
The Pacers are now 9-5 on the season. They've gone completely bonkers, offensively, in their last three games (all wins), to the tune of 358 total points, all in regulation. To put that into perspective, the only other team to score at least that many points over three regulation contests this season is the Golden State Warriors. The historically dominant Golden State Warriors.
Two things have happened for Indiana this season that would have led anyone to expect offensive improvement over recent Pacers squads: they got Paul George back, and they dumped their plodding, halfcourt offense in favor of a quicker, more diverse lineup and a four-out, uptempo offense.
About Paul George: he was magnificent last night, and looked very much like one of the best three or four players on earth.
It has been easy to forget what a two-way force George is when he's healthy. Kawhi Leonard's recent coronation as the best two-way player in the NBA might have been a bit presumptive: George has always been a monster defender, and his offensive game is several developmental steps ahead of Leonard's. George is also experienced and proven as his team's primary offensive weapon. His gruesome leg injury stole a lot of his buzz, but his incredible offensive numbers so far this season—he's scoring 25 a game—will put him right back on people's radar, like a goddamn hurricane.