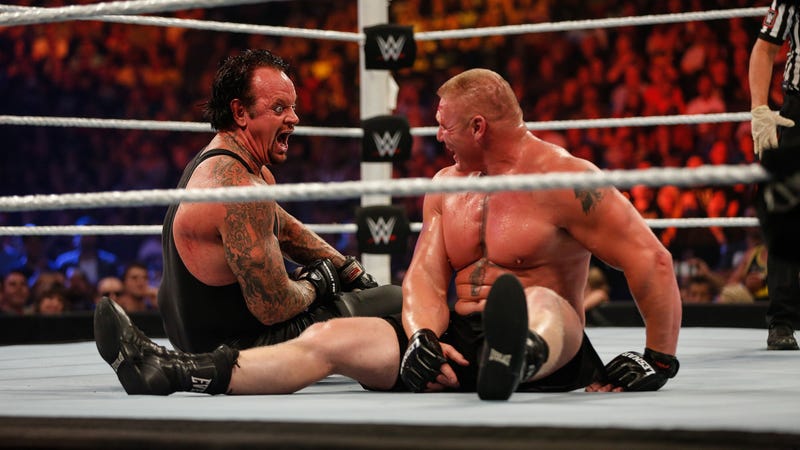 Welcome to Deadspin's irregular pro wrestling column, in which Tom Breihan and Ernest Wilkins will comb through the past month or so of superkicks, lariats, and 450 splashes in search of the greatest things that this most American of artforms has given us.
Ernest Wilkins: The Iron Man Match–where the participants have to score as many pinfalls or submissions as they can in an allotted period, usually either 30 or 60 minutes–is one of the most prestigious of all the types matches two wrestlers can find themselves in. Not just a showcase of endurance, an Iron Man match is the purest example of ring psychology—the actual "story" being told during a bout—that you'll likely see. More often than not, wrestling is filled with head-scratching moments. If the guy has a bum shoulder, why doesn't the other guy just keep hitting him in the shoulder? That's the beauty of Iron Man matches! A simple kick to the knee turns into a major plot point. It's now going to likely cause a wrestler to lose a fall and will be revisited multiple times throughout the match. Because of this attention to detail, Iron Man matches usually feature the best wrestlers in a promotion, both from psychology and general conditioning perspectives.
How prestigious is an Iron Man match? In the long and illustrious history of the WWF/WWE—a company that has been airing pro wrestling on television since the '60s—there have only been NINE televised Iron Man matches. The 10th, by way of WWE's developmental promotion NXT, occurred earlier this month, with challenger Sasha Banks taking on the champ Bayley in a rematch from their nearly perfect bout a month ago in Brooklyn.