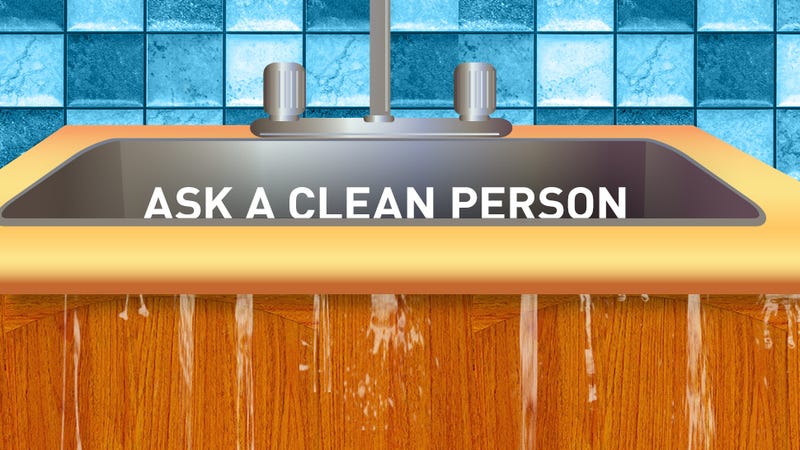 Jolie Kerr is a cleaning expert and advice columnist. She'll be here every other week helping to answer your filthiest questions. Are you dirty? Email her.
I'm breaking with form today just a bit—there will still be a question and an answer, as befits a column called 'Ask a Clean Person' but today's Q&A will be in storyboard-ish form.
It all started with Tim Marchman's feathers.
Eagle-eyed followers noted that he'd left his coffee mug uncoastered atop a wood table, and were quick to express dismay on my behalf. But dismayed I was not. No siree, Bob! Because the absolute coolest trick I have up my very clean sleeves is the one that takes white water marks off of wood, and it's somehow one that I've never written about it. (A quick detour back to Marchman's feathers: It thrilled me beyond belief to see that he was using a feather duster for his bookshelf operation. Feather dusters are marvelous things. Let's bring back the use of the feather duster, yes?! Yes! Okay, good talk!)
In the way that these things tend to happen on Twitter, someone jumped in to plead with me to share my secrets.
And because I am a kind-hearted Clean Person I told him to email me for a preview of things to come. This is where things got great.
My new friend had inherited a set of water-stained kitchen cabinets. He'd tried everything to remove the white streaks, to no avail. Everything, that is, except this one trick that I'd somehow never written about.
It's so frickin' weird. Okay, ready? Oh man.
Mix butter and cigar or cigarette ashes together to make a paste. Apply in a circular motion to stains with a soft cloth, and then wipe clean with the non-greasy part of the cloth. Voila! No more white water stains.
(I've also seen similar instructions to mix ashes with water, but the butter thing comes from my mother and I'm not gonna mess with Mommy's advice, ya know?)
My new friend gave my very weird advice a whirl and you won't believe what happened next! (You will actually totally believe it.)
IT WORKED!
He shared before & after photos with me, and gave permission for me to share them with you. Here they are:
Pretty cool, eh?! There's still some residual staining that he's going to get at with another application of what he's now referring to as "this crazy-ass paste" which, sure! Works for me. (One day, when I have established my Clean Empire, purchased the production rights for LaFrance Bluing away from Dial Corp. and revived that product, I shall also sell pre-made Crazy-Ass Paste and everything will be wonderful. I have plans and hopes and dreams, you see.)
For those of you who don't have a smoker in your life from whom to cultivate ashes, I give this piece from Reader's Digest detailing seven different ways to remove water rings from wood.

You were warned that today's column was a break from form, and now I need to issue a secondary warning that SHAMELESS SELF-PROMOTION IS ABOUT TO HAPPEN. (Believe me, this hurts me way more than it hurts you.)
Okay so! A few things to mention to you guys.
My book goes on sale on Tuesday! You could purchase it at any one of these fine establishments: Amazon | Barnes & Noble | Indiebound | iTunes
Or! You could come to the book launch event my publishing company is hosting on February 26 at 7p at Powerhouse Arena in Brooklyn and buy a copy there. I will sign it for you! And your purchase will entitle you to one (1) raffle ticket. I'm giving away a giant basket of my favorite cleaning products, and who among you wouldn't want that?!? The event will also feature a Q&A moderated by the marvelous Bobby Finger; free beer and wine; and a fitted sheet folding demo.

Oddly, it's that last thing that folks seem most excited about.
For those of you who aren't in New York/are reclusive hermits (<3 u, fellow reclusive hermits!), I'll also be doing some internet-y stuff. On Tuesday, February 25 at 1p EST, I'll be participating in a Reddit AMA (r/LifeProTips). On Friday, February 28 at 2p EST there will be a live chat and reader contest on Jezebel, followed by an extension of that contest on Twitter (hashtag TBD) starting at 3p EST. I'll pick the best/grossest/trickiest questions asked on each platform and four winners will receive a signed copy of the book, a Penguin tote bag and a bottle of white vinegar. Great prize, or greatest prize?
I can't recall if I've mentioned to you guys that I have an email newsletter. Anyway, yeah, I have one. You can sign up here! I'm not overly prolific—I generally send two, maybe three, emails out a month. It's mostly just me chattering and sharing links to new and old things and mentioning events and such and maybe throwing a little shade every now and again. Cool, way to sell this thing, Joles! (Oh of course, you can totally call me Joles.)
The Squalor Archive: Armpit Stain Eradication | Blood Stain Removal | Booze Stench Elimination | Brightening White Towels & Sheets | Buildup on Wood Tables |Car Odor Elimination | Cleaning Car Consoles | Caring for Athletic Clothing | Cat Pee | Coffee & Spice Grinders | Dirty Ball Caps | Dog Mess on Carpet | Filthy Couches |Football Glove Care | Gasoline on Clothing | Grain Moth Infestations | Grease/Rubber Stain Treatments |Gross Computers | Guests & Bedbugs | Gym Bags |Halloween Cleanup |Humidifiers | Jeans |Karategi Cleaning | Ketchup Stains | Ladies Underpants | Laundering Bathmats | Lube Stains |Makeup Debris in Bathrooms | Makeup Stains On Upholstery |Marijuana Stench | Mayo Stains| Melted Microfiber on Enameled Cast Iron | Menstrual Cup Care | Mildewed Towels | Moldy Trousers | Mustard Stains | Mystery Stains | Nail Polish Stains| Odor Removal for Non-Launderable Items | Oven Cleaning | Pine Needles & Sap | Pee-Smelling Bathrooms | Rank Roller Derby Pads | Ring Around The Collar |Rust Stains on Clothing | Salt-Stained Winter Shoes | Scorched Pots | Scummy Glass Shower Doors | Semen Stains | Sheet Changing Cycles |Sheet Changing Etiquette & Tricks | Skidmarks| Stained Tennis Whites | Stinking Sinks |Stinky Feet | Stinky Slippers | Suede Care | Sunscreen Stains | Tea Kettles |Thanksgiving Stain Primer | That Orange Stuff In The Shower | The Great Bra Washing Extravaganza | Toilet Mold | Towel Laundering Cycles | Treating Testicular Odor | Washing & De-Pilling Sweaters | Wax Removal Techniques | WD-40 Stain Removal | When Butter Attacks| Yellowed Fingernails | Yellowed Sheets | Yellowed Swimsuits | Yoga Mats | A Bookmark-able Squalor Archive