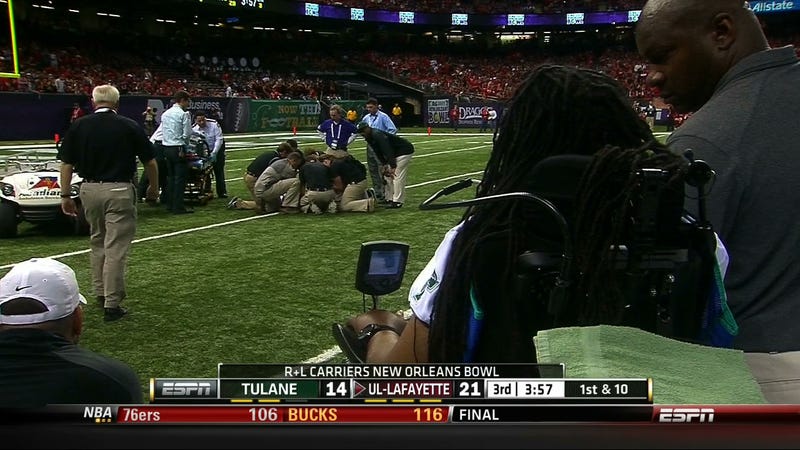 Much of last night's ESPN coverage from the New Orleans Bowl matchup between Tulane and Louisiana-Lafayette focused on former Green Wave safety Devon Walker, who was paralyzed from the neck down after a helmet-to-helmet collision last year in a game against Tulsa. When Tulane cornerback Jordan Sullen appeared to suffer a head injury making a tackle attempt in the third quarter that left him lying unresponsive on the Superdome turf, ESPN repeatedly went to a camera angle showing Walker gazing upon the solemn scene. Viewers were horrified.
A little gross moment just happened on ESPN. They angled the camera to show Devon Walker looking at an unconscious Sullen. Not a fan of that

— Ryan Jones (@rjonesTH) December 22, 2013
Eerie quite in Superdome as Jordan Sullen remains down. More uncomfortable - the TV keeps cutting to shots of Devon Walker on sideline.

— Fletcher Mackel (@FletcherMackel) December 22, 2013
ESPN going to the point of creepiness having the cameras on the paralyzed football player while they treat an injured player on the field.

— Christopher Mosqueda (@double_listener) December 22, 2013
ESPN is classless with the way they are stuffing that camera in the face of that paralyzed kid. Have some class for once

— Daily Rant (@MyDaily_Rant) December 22, 2013
lost all respect for @espn #Tulane has a paralyzed player on the sideline, player on the field goes down. Cameras trained on paralyzed guy

— Mike VM (@Christglider) December 22, 2013
Fuck you @espn ! Stop using the paralyzed guy on the sideline as an emotional tool while the kid is getting carted off the field.

— Trey (@3rdsworld) December 22, 2013
Dear @ESPN. It is not tasteful to show a paralyzed guy watching another guy suffering a serious injury on a football field. NOT TASTEFUL.

— Sam Angell (@samangell2007) December 22, 2013
@espn your shot of the injured player just over the shoulder of the paralyzed player is completely tasteless. #NewOrleansBowl

— Jason Whitt (@Whittness) December 22, 2013
@espn that shoot you just showed was awful, showing the paralyzed guy in the for front and player down in the far. Messed up!

— PATRICK RYAN (@PRPOWRATZ) December 22, 2013
@espn is disgusting. Really?!? You go to the camera behind the paralyzed guy as someone is out on the field. #Tulane #RLBowl

— Cory Wade (@TheCoryWade) December 22, 2013
@ESPN terrible thing you're doing exploiting Devin Walkers injury with a player injured on the field. #HaveYouNoShame

— Thomas Davis (@ThommThumb) December 22, 2013
The camera shot of a quadriplegic and an injured player on the field is miserable. Honestly, you are the worst @espn

— Collin (@cjfern1299) December 22, 2013
We acknowledge the shot may have seemed inspired at the moment, but after a split-second it immediately became awful. That ESPN's director called for the shot multiple times seems, to us, exploitative. What do you say?