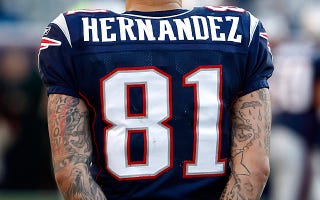 Yes, there is intense demand for Aaron Hernandez jerseys, which are fetching hundreds of dollars at online auctions despite Hernandez having perhaps killed a dude or three. No, this is not a symbol of the decline of Western civilization.
The Hernandez jerseys, authentics, replicas, and autographed alike, are selling like allegedly murderous hotcakes. The Boston Globe reports the stories of a number of sellers, all of which go pretty much the same.
"I thought about giving it to Goodwill," [Patriots fan John Lamothe] said, "but I didn't think anybody would want it."

So instead, he put it on eBay, the online auction site. "I thought I might get $15 for it," he said.

On Sunday, it sold for $289.

[...]

Lamothe said the person who bought his jersey told him just two things: He had overpaid, and he did not want his wife to know what he had done.
Breathe. This isn't complicated. There will be no more Aaron Hernandez jerseys produced. The Patriots are actively recalling them, offering a free jersey exchange. Supply has been restricted; demand has accordingly gone up. It's not a sign of shitty or disrespectful fans, or a societal indictment. It's high school economics.