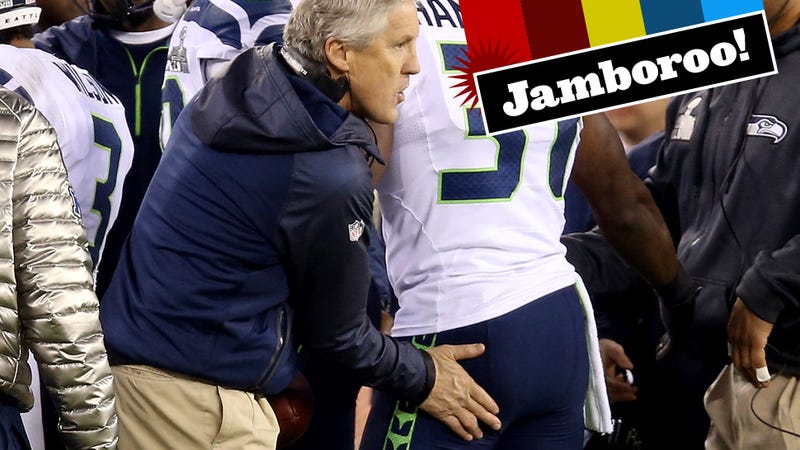 Drew Magary's Thursday Afternoon NFL Dick Joke Jamboroo runs every Thursday during the NFL season. Email Drew here.
My friend Matt Ufford is an enormous Seahawks fan and can currently be seen floating somewhere a mile above Puget Sound, full of whiskey and unable to control his giggling. He is among the happiest of happy sports fans right now. But of course, if you had told him four years ago that Pete Carroll would be his sugar daddy, he would have asked you to stop being a sarcastic dick. In fact, I dug up some old emails from Ufford the week Carroll was officially hired by the Seahawks back in January of 2010. Here is a sampling of his gut reaction...
Well, Belichick sucked the first time as an NFL coach before finding success with his second NFL gig! Right? RIGHT?!?!?

/prepares noose...

I am positively terrified of what the Seahawks may become...

I mean, it's not like Mora was the answer...

I've just got a bad feeling that instead of sucky and obscure they'll be the kind of sucky that the Redskins are.
I assure you that Uff was not alone among Seattle fans in thinking this way. After all, Carroll was a 58-year-old retread with a reputation for bad game management (and he still kinda sucks at it!) who jumped ship to the NFL only after USC was about to get the banhammer dropped on them, and it was long assumed (by me!) that Carroll only won at USC because a) cheating, b) celebrities hanging out at practice, and c) RAH RAH YOU GUYS! He was a desperate choice for a franchise that had just pulled a one-and-done with its former coach and had been turned down by The Dunge when they offered him a cushy GM gig.
Every team that hires a retread coach points to Bill Belichick as an example of how coaches can grow, and learn, and stop sucking. And in general, those hopes are the byproduct of wishful thinking... the one nice way of spinning what you consider to be an uninspired choice. Deep down, I don't think many Seattle fans expected Pete Carroll to be this successful, and what's more, I don't think they expected him to become the standard-bearer for what a modern coach ought to be.
This was not a great season for dictatorial coaches like Greg Schiano and Mike Shanahan. Even Nicky Saban got de-pantsed twice on national television. Coaches are a strange breed who prize their authority almost as much as they prize winning, and that sort of mindset is becoming less and less useful in a professional sports environment. If you were an NFL player, what would you want out of your coach? You'd want him to be smart. You'd want him to be loyal. You'd want to be able to exchange ideas with him and his staff without being treated like an idiot. You'd want him to procure lobster tails for the training table. In short, you'd want a good boss, just as every other working American wants a good boss. And Pete Carroll is a good boss. I know lots of fans hate his guts because no one on Earth is a more smugly aggressive gum chewer. But if I were a player, I'd wanna work for that guy. I bet the Seahawks have Google buses to pick them up at home and everything.