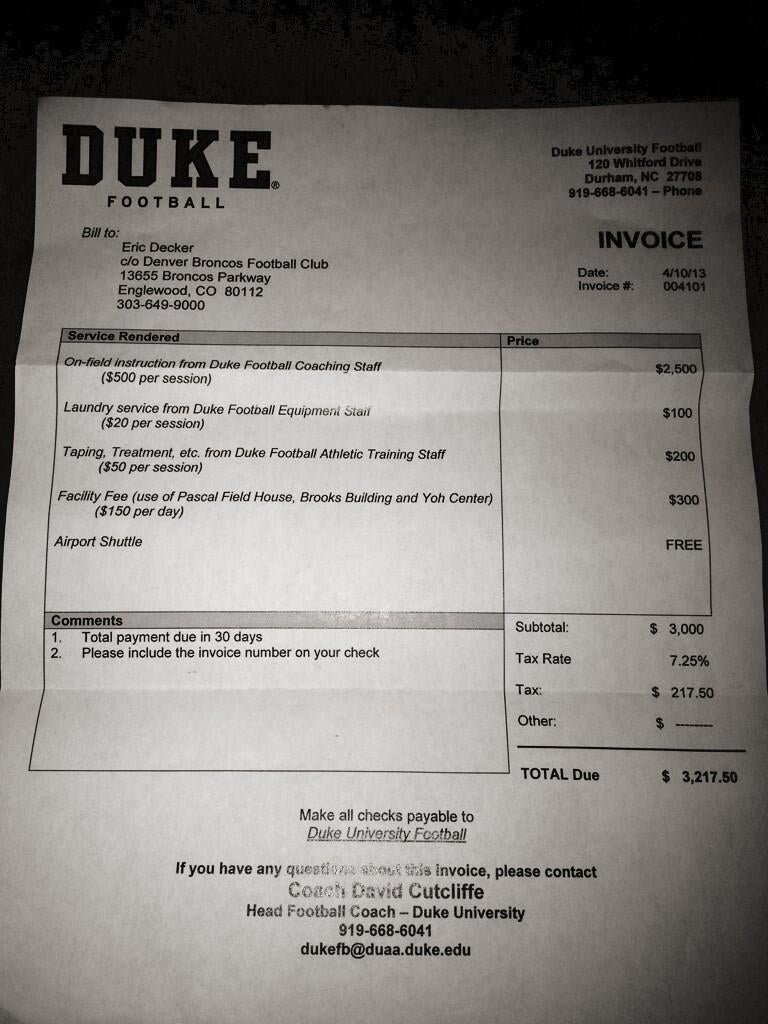 Those Manning boys sure are having a good time in Durham, aren't they? Eli's over here causing all kinds of mischief with Chris Mortensen's hair, and now we have big brother Peyton pulling a prank on one of his best wide receivers.
When Eric Decker arrived at Duke University for some offseason conditioning, he was greeted by the invoice you see above. The bill is fake, of course, but it sure looks authentic. The inclusion of "c/o Denver Broncos Football Club" was a nice touch.
Peyton even took the prank a step further, giving the rest of the receivers that came to workout this note:
@ericdecker87 got his invoice for Manning/Duke workouts; @weswelker @teamvic @demaryiust @murph918 @vinnyrey got this twitter.com/mortreport/sta…

— Chris Mortensen (@mortreport) April 11, 2013
Decker figured out the joke, but it seems to have fooled him at least momentarily:
I didn't add t/$ amount up at dinner..especially when I thought it was a volunteer workout ha! The tax and facility fee threw me off ha!!

— Eric Decker (@EricDecker87) April 11, 2013
Yea! Everyone at the table was in on it too! I gave @demaryiust a look like what?! RT@viclombardi: @ericdecker87 that WAS a prank, right?

— Eric Decker (@EricDecker87) April 11, 2013
We are a big fan of the Manning brothers' shenanigans. The NFL needs more shenanigans.
[Twitter]