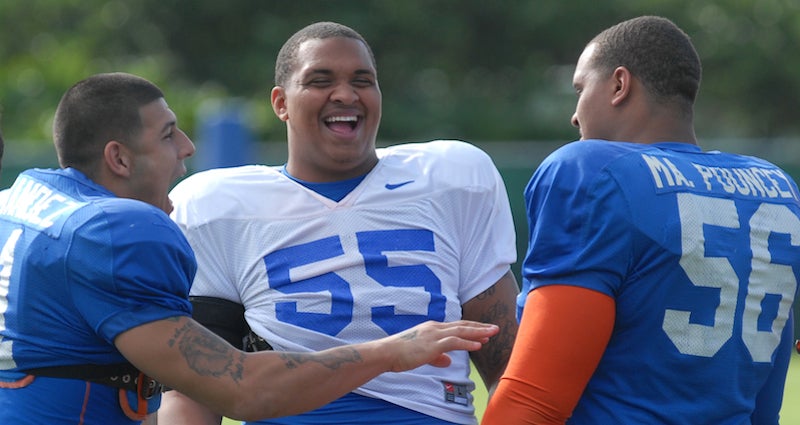 The Pouncey twins should probably just lay low on their birthday next year.
Over the weekend, a man who goes by the name of Ricky Vasquez took to Twitter and Instagram to accuse Maurkice and Mike Pouncey of jumping him at a South Beach nightclub called Cameo, where the brothers were having their birthday celebration.
I just got jumped by 4 bouncers and the Pouncey Twins at Cameo. I'm going to press charges. My face is swollen

— IG: iRickyVasquez (@iAmRickyVasquez) July 12, 2014
This shit is NOT over. I'm fucking 5'6" both of guys play for the fucking NFL

— IG: iRickyVasquez (@iAmRickyVasquez) July 12, 2014
There was indeed an altercation at Cameo, as confirmed by a police report (which can be read at the bottom of the page) obtained by the Broward Palm Beach New Times, although the Pounceys are not named in the report. Further complicating matters is this report from Pro Football Talk, citing a source who says the Pounceys weren't involved at all.
And yet, the Miami Herald reported today that Maurkice and Mike Pouncey will be named in a lawsuit as the result of the altercation. Vasquez and two other purported victims, Niya Pickett and Brentley Williams are filing the suit.
Basically, we have no idea what the hell happened here. The lawsuit is going to be announced at a press conference by a publicist that was hired by the alleged victims' attorney, which... yeah, and the club has yet to make any security footage available.
At this point, the only conclusion to be drawn from this is that the Pouncey boys should stop going to Cameo.
[New Times | Miami Herald | PFT]