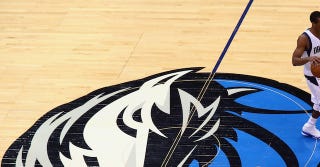 There isn't a chance in hell that Rajon Rondo, who played just 10 minutes during last night's Game 2 loss to the Rockets, is going to be in Dallas next year. To say as much isn't so much a prediction as it is a statement of fact. The real question is whether Rajon Rondo will ever again be the star he once was.
Rondo's 10 minutes of floor time were the fewest he's ever had in a playoff game, and during the minutes he actually was on the floor, he looked like a guy who would have rather been standing in line at the DMV. His night began with a downright silly eight-second violation, which he followed up by getting lost on defense and surrendering a wide-open three to Jason Terry. It ended with back-to-back fouls and getting called for a stupid technical after shoving James Harden.
Rondo's postgame comments were what you'd expect them to be, which is to say they were non-existent. From ESPN:
Rajon Rondo looped around the media horde surrounding his stall late Tuesday night in the Toyota Center visitors' locker room and darted into the trainer's room.

A couple of minutes later, Rondo emerged with headphone buds in his ears and ignored the handful of reporters who attempted to ask him questions as he walked toward the arena's exits, his eyes never shifting from straight ahead.
This crash and burn has been on the horizon ever since Rondo arrived in Dallas via mid-season trade. The Mavs thought they were getting a guy who could stabilize the point guard position and add some juice to the team's offense, but instead they got a can't-shoot point guard who never found a way to fit into Rick Carlisle's offense and wasn't shy about getting surly with his coach.