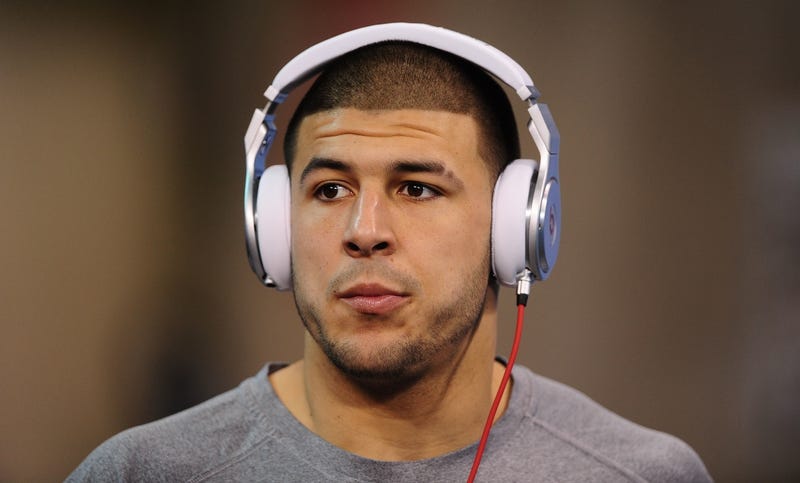 Rolling Stone's hotly anticipated Aaron Hernandez story has dropped (bizarrely, co-written by the Herald's Ron Borges), and it paints a picture of a man who spiraled into a paranoid PCP haze over the year leading up to Odin Lloyd's murder.
Here's your money quote:
"Aaron's out of his mind," says one friend of the family. "He's been twisted on dust now for more than a year, which is when all of this crazy shit started."
Yesterday's tease may have overpromised. Much of the information here comes from court documents and previous news reports. The new stuff comes from conversations with friends of Hernandez and his family, and depicts a generally good kid who fell in with a bad crowd after his mother cheated on his father with an abusive cocaine dealer, and his father died when Aaron was 16.
Problems emerged at Florida, where according to the report Urban Meyer had daily bible readings with Hernandez, and assigned the Pouncey twins and Tim Tebow to be his minders. The story implied Meyer and the UF machine kept police off Hernandez's back, even as he was questioned for punching a waiter and later, being involved in a shooting where the suspect's description closely resembled Hernandez. The previously teased nugget that Urban Meyer may have helped him cover up failed drug tests? That's not in here.
Though he scored a 1 out of 10 on a pre-draft psychological test for "social maturity," the Patriots took a flyer on him, in keeping with taking risks for value.
But it was last summer, after Hernandez signed a $40 million contract extension, that things went southward in a hurry. (Hernandez himself admitted in a letter from jail that he "fell off especially after making all that money.") According to Rolling Stone, Hernandez flew to the NFL combine this February to tell Bill Belichick he believed there were people trying to kill him. This was angel dust paranoia, the article implies, and Hernandez had begun carrying a gun with him everywhere he went.