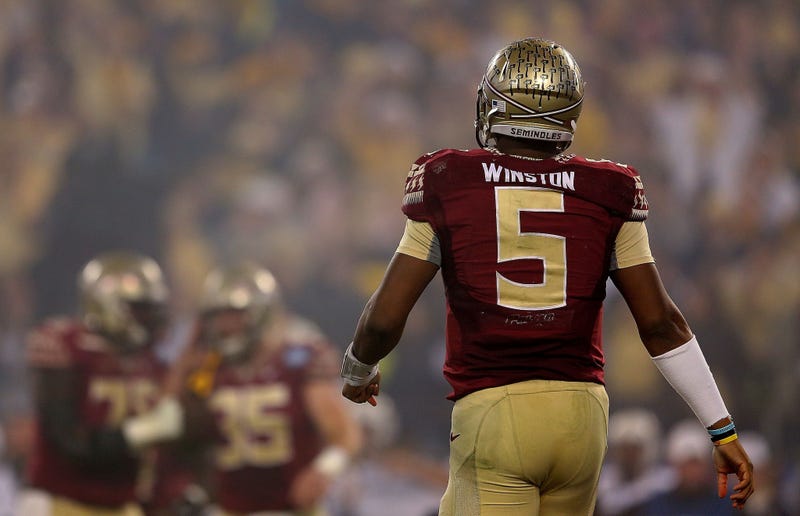 Florida State has started a mandatory leadership class for freshman athletes, and it includes discussion about rape. And the person serving as the guest instructor for that class, the Tampa Bay Times reported Friday, is FSU Police Chief David Perry. You might remember him as the guy who was accused of giving his university and Winston an 11-month head start on the sexual assault allegations, before prosecutors officially got the file from police.
Perry's department did not conduct the Winston investigation, but he was involved. From Kinsman's lawsuit (Baker refers to Times reporter Matt Baker, who was checking with police on a tip that Winston was under investigation):
Instead of sending the reports to Baker, the Tallahassee Police instructed its records chief, Michael Courtemanche ("Courtemanche"), to send the records to FSU—specifically to FSU Police Chief Perry—despite the absence of any law enforcement purpose for doing so.

Chief Perry received the Winston reports with an email about Baker at 3:41 p.m. on Friday, November 8, 2013. Chief Perry asked Courtemanche for Baker's background.

At 8:53 p.m. that day, Chief Perry forwarded the investigation reports and information about Baker to Bonasorte.

The next morning, Saturday, November 9, 2013, more emails were sent from the Tallahassee Police to FSU Police Chief Perry and forwarded to Bonasorte in the FSU Athletics Department. Bonasorte asked his Sports Information Director to research Baker's background.

At 11:34 a.m. that Saturday, Bonasorte emailed Chief Perry "I will talk to Jimbo," referring to head FSU football coach James "Jimbo" Fisher.

Shortly thereafter, those same police reports provided to Bonasorte were provided to Winston's criminal defense lawyer, Jansen.

Jansen used his head-start on the State Attorney's Office to coordinate Winston's teammates – Casher and Darby – as eye witnesses before prosecutors even learned there was an investigation.

... Only after the FSU Police, FSU Athletics Department, FSU Administration, and Jansen had received their copies of the police reports did Tallahassee Police Sgt. Joanna Baldwin authorize the release of the Winston file to the State Attorney's Office, which occurred at 3:30 p.m. on November 12, 2013.
Kinsman settled with the university in January.
Perry also came up in the deposition of Melissa Ashton, who at the time was in charge of Florida State's victim advocate program. She was deposed as part of Kinsman's lawsuit and described how poorly accusations of sexual assault and domestic violence against football players, not just Winston, were handled. In a summary included in the recent Times story, Ashton also talked specifically about Perry's involvement with the Winston case.