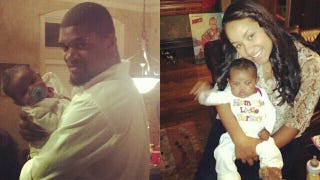 Multiple reports have confirmed that fourth-year Kansas City Chiefs linebacker Jovan Belcher shot himself at the Chiefs' practice facility this morning, allegedly after shooting and killing his girlfriend. According to CBS's Jason La Canfora, Belcher killed himself after speaking with the team's GM and head coach. See updates below.
10:47 a.m.: The full report, with everything we know at the moment, from KCTV in Kansas City:
Police are investigating two deadly shootings Saturday morning that they said are related.

The shootings involve a Chiefs player and his girlfriend.

The first shooting was reported about 8 a.m. at a home near 54th Street and Chrysler Avenue. The second shooting was reported a short time later at a Chiefs practice facility located on the Arrowhead facility.

Officials said the Chiefs player shot and killed his girlfriend and then drove to the practice facility where he shot and killed himself.

It's unknown if people were at Arrowhead or any of its surrounding facilities at the time.
Twitter rumors are flying about who the player is—observers of varying levels of access seem to have settled on a single candidate—but we'll wait to confirm, and will update this post as more information becomes available.
Update, 11:04 a.m.: It looks like the original guesses were correct: CBS's Jason La Canfora is reporting the player in question was Jovan Belcher.
Belcher was a four-year veteran, and had started 44 of the team's 59 games during that span. His player bio is here.
Update, 11:20 a.m.: Belcher may have committed suicide in front of Romeo Crennel and Scott Pioli:
Update, 11:47 a.m.: Recent pictures of Belcher, his girlfriend and their child, uploaded to this Facebook page. The caption reads, "Happy Thanksgiving from my family to yours."
There is also a Walmart baby registry for "Kasandra Perkins & Jovan Belcher," set for 9/11/2012, here. The police have not yet named Perkins as the first victim.
Update, 12:02 p.m.: More on Belcher's final moments, from Jason La Canfora:
Update, 12:52 p.m.: An EMT in the discussion below treated Belcher after he put his fist through a window in college.