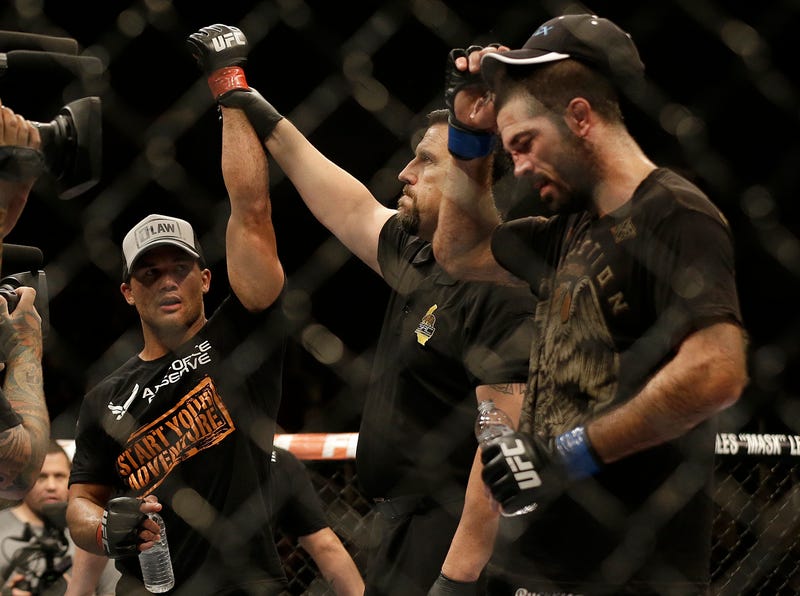 Sometime shortly after Robbie Lawler started hitting Matt Brown unreasonably hard in San Jose, Calif. Saturday night, a low rumble shook my apartment. It felt and sounded strangely like—and turned out actually to be—fireworks. This was silly, entirely too literal, but given that the fight featured Lawler, a man far more renowned for explosiveness than for subtlety, it was perfectly appropriate.
Lawler has been fighting for a long time, but the 32-year-old veteran version of him is the best we've seen. He's maintained every bit of the power and toughness that fascinated fans and incapacitated opponents in his youth, but his game has matured, and the sharpness and patience he's displayed over the last year and a half have made him more dangerous and entertaining than ever. This iteration of him against relentless damage-sponge Matt Brown was almost too much to ask for.
It was a guaranteed action fight, the kind that creates an anxious anticipatory buzz, and it delivered exactly what we all hoped for. Even with Brown's ability to inexplicably absorb Lawler's power and continuously retaliate with a varied Muay Thai arsenal, though, Lawler, as the bookies and most pundits predicted, was too fast, too poised, and just too good, winning a decision to earn a shot at Johny Hendricks's welterweight title, probably some time early next year.
The fact that any of this happened at all is ridiculously unlikely. Matt Brown's dramatic story—jail time, a heroin overdose, a redemptive turn at professional fighting, early success, a 1-4 slide that would have seen a less-entertaining fighter cut, and an improbable seven-fight win streak— has been well documented during his recent run.