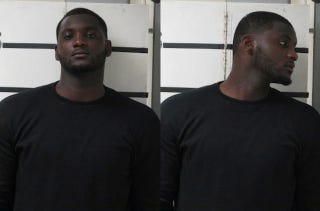 Upon signing with the Ravens earlier this month—for no guaranteed money—linebacker Rolando McClain called it "a move that can't go wrong." After being arrested in Decatur, Ala., last night—his third arrest there in 17 months—perhaps the only foolproof contract is one with a clause that doesn't let him go home.
McClain was arrested Sunday evening and charged with disorderly conduct and resisting arrest, both misdemeanors. Police aren't yet releasing any details, but eyewitnesses tell WHNT McClain was among a large group of people gathered in a local park, and refused to disperse when ordered to do so. McClain cursed at officers, and found himself in handcuffs. He has since posted a $1,000 bond and been released.
McClain is even worse at staying out of trouble in Decatur than he is at stopping the pass. In January 2011, his car was the target of a drive-by shooting. In December 2011, he was arrested after a fight with another man, during which McClain put a gun next to the man's head and fired. (In another direction.) That gave us the sunniest perp walk of all time.