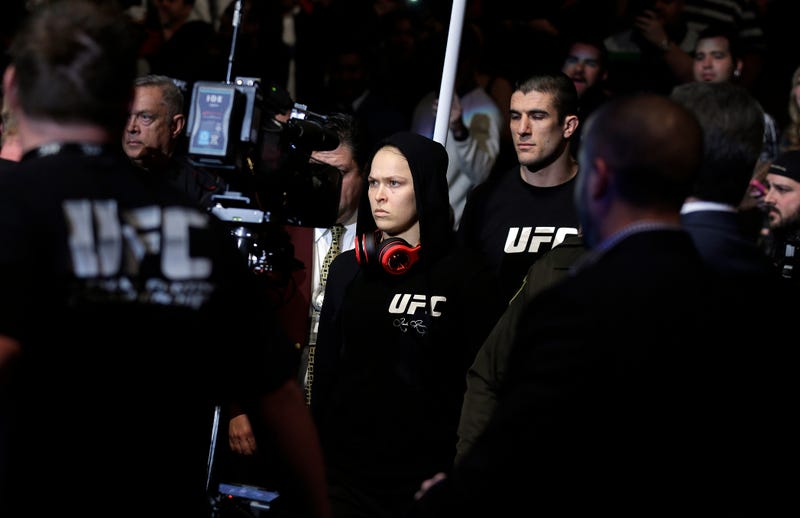 A few thoughts, in no particular order, on last night's UFC fight card, which featured Ronda Rousey's successful defense of the bantamweight title against Sara McMann and Daniel Cormier knocking out a guy from off the street:
1) The UFC is, in essence, a professional wrestling promotion. Its business strategy—the construction of a cult of personality around a vulgar, authoritarian frontman; the use of mainly disposable talent that has most of the obligations and few of the benefits of employees; the way it's aimed principally at cultish devotees—is derived from the WWE model. Its matchmaking, company higher-ups freely concede in private, is patterned after that of old-school wrestling, oriented more around building up marketable characters than finding out who the best fighters in the various weight classes are. Many of its biggest stars, from Ken Shamrock to Brock Lesnar, have been professional wrestlers. Most significant of all, it sells the exact same fantasy of consequence-free violence.
This, as much as anything else (and there is a lot of anything else), probably explains the public revulsion to the sport. While the UFC promotes itself as a successor to boxing, it's in fact an evolutionary variant of something that is, at its core, a kind of confidence game. Boxing, as ugly and corrupt as it can be, is a sport that involves a great deal of athletic spectacle. Fighting, at least as presently sold, is the precise opposite, a contrived spectacle based mainly on what can be sold to whom that almost incidentally happens to involve a sport.
2) What makes the UFC worth following despite all of this is that the deceit happens to work in service of an intricate, occasionally beautiful sport that has, as it's grown, drawn in an ever-larger number of world-class athletes. The implicit promise the promotion makes to fans is that in exchange for everything awful—the nü-metal demands to face the pain and step to this, the corrupt and co-opted press, the increasingly thin cards featuring poorly tattooed try-hards and semi-athletes, the disrespect shown even the greatest fighters once they seem to have exhausted their usefulness, and so on—they'll keep the signal separate from the noise and present contests that are, at their best, as compelling as anything any other sport can offer.