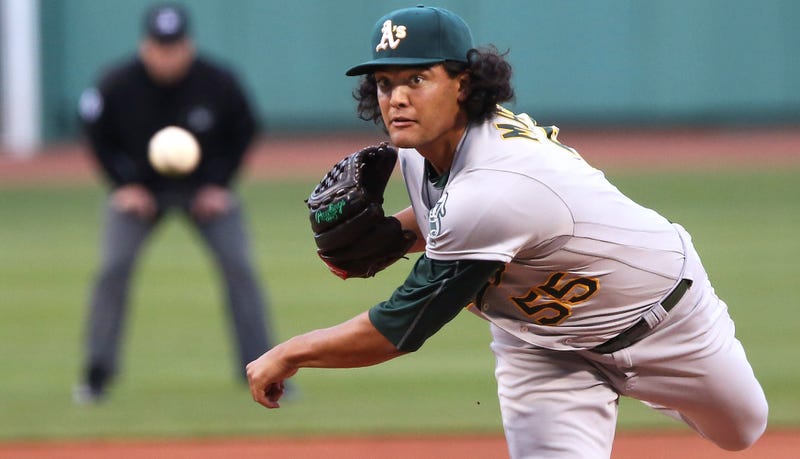 This is part of an occasional series of slightly belated MLB season previews.
The two standout moments from each of the past two years of Oakland A's baseball have both involved talent downgrades. They traded Josh Donaldson eastward to Toronto in 2014, where he immediately had the best hitting season in Blue Jays history (8.8 WAR) and won the American League MVP award. A year later, they swapped their big return from that trade (Brett Lawrie) to the White Sox for two long-term prospects. I expect Billy Beane to trade them for three college players soon, and then swap them for a little league team, and so on and so forth until the big return for an MVP is a sack of magic beans.
Oakland made three straight playoff appearances earlier this decade, groomed Yoenis Cespedes into a star, didn't get much to show for it, and turned out a clunker of a season last year. 2016 was always going to be a rebuilding year and pretty much all of the baseball intelligentsia had them finishing at the bottom of the AL West. They play in a hulking wind trap of a ballpark, they don't have a top-line prospect to work into the big league club this year, and, hell, hometown hero E-40 is now an ambassador for the Giants, so the A's looked and felt a lot like a team not worth watching in March.
Who are the A's?
One-fifth of the way through the season and that projection has come mostly true. The A's aren't, say, good by any meaningful metric. They started out the season hot and swept the Yankees and Mariners before deflating and going 6-15 over their last 21 games. Weirdly, they are 5-11 in Oakland and 11-11 away from home, which was a much stranger split before the Red Sox pummeled them in Boston.
They haven't played a particularly hard schedule or strayed too far away from their expected production. Last year, they had a below-average offense and a below-average pitching corps. This year, the offense has leveled out at a similar tier, while the pitching has been worse than expected, especially after Boston nuked them. Their record and run differential agrees that they're, say, Brewers bad but not Braves bad or anything like that. If the starters level out (which, really, they should) and they manage to generate some more offense, sure, okay, they could recapture that early-season form.
It's a long shot though, they're probably just a bad team. I dunno, it's baseball, a random number generator played out by hundreds of pajama-clad dudes. Given the recent history in play here, and the underachieving-yet-tough division they're playing in, it feels like the A's are who they are. Which, honestly, is fine. It's fine! Someone has to be bad.

What guys should you know?
I'm really enjoying watching Marcus Semien sock a bunch of dingers, turn more double plays than any other shortstop in baseball, and yet barely clear the Mendoza line. He strikes out constantly and looks to clear the bases every time he approaches the plate. That's not how shortstops are supposed to play, but the local product is the Athletics' best power hitter and, by one specific metric, their best offensive player.
Semien stands out for his wonky productivity, but the rest of the middle of the field is an area of strength for Oakland. Steven Vogt can do some stuff, Billy Burns can run and hit for average like you expect your center fielder to, and Jed Lowrie looks more comfortable as an A's player than anything else (he's on the 15-day DL now, sadly). Danny Valencia is heating up and has hit a million dingers in his past few games.
The A's have hit more homers than their record would suggest, but still, there's not a whole lot of hitting talent on this team. Now that their pitching is, uh, slipping, they've regressed and have the fourth-worst run differential in baseball.