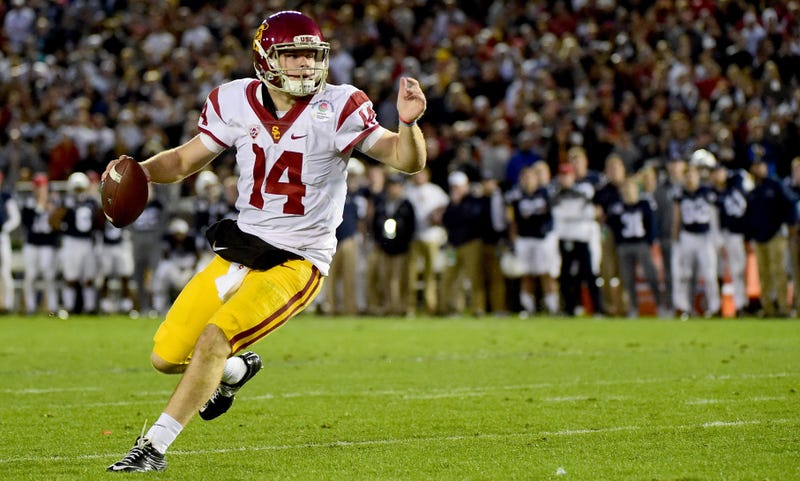 It took a record-setting rookie from USC tearing out Penn State's beating heart on national television, but I think bowl games might be good again.
Sam Darnold, the Trojans' strong-jawed redshirt freshman quarterback, put together one of the best individual performances of the entire bowl season in last night's 52-49 victory over Penn State. Throwing for five touchdowns and contributing 473 yards of total offense—both Rose Bowl records—the freshman capped a bizarre year for the 10-3 Trojans, who, after a rough start, turned out to be pretty great.
Like a multitude of great bowl quarterback stories, Darnold's started on the bench. After backing up Cody Kessler for two years, redshirt junior Max Browne was in the captain's chair to start the season at quarterback. Interim-turned-full-time head coach Clay Helton was high on Browne all offseason, pumping his new QB as The Guy. Then USC had its teeth kicked in and ass filled by Nick Saban's loafers in a 52-6 season-opening loss to Alabama.
Browne was given the benefit of the doubt at the time—hey, it's the Tide defense, after all. He looked better against Utah State (a shitty Mountain West team), but struggled the following week, throwing for 191 yards and no scores in a road loss to Stanford. All the while, Helton's players were fighting with officials, stomping on opposing player's balls, and maybe, but most likely not punching him in the face.
Helton interchanged his quarterbacks through the first three games, giving Browne the majority of the snaps as the starter, but still consistently testing out Darnold in small spurts. While Browne sat in the driver's seat, the move seemed to indicate an indecisive coach, one with two available quarterbacks and no solid plan. Now, after nine straight wins and a record-breaking Rose Bowl performance from his young gunslinger, Helton looks a bit smarter than he did in Week 3.