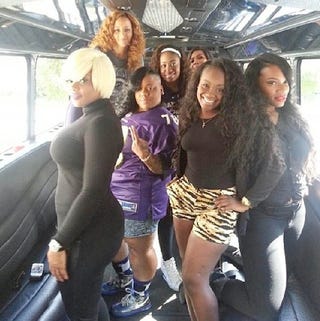 Earlier today TMZ broke the story of Bryant McKinnie's birthday party, which started with a club party and ended with a fight in a party bus, reportedly sparked by a stripper breaking a bottle of Armand de Brignac over Jacoby Jones's head. OK, everyone said, sounds like a typical night out with McKinnie. But tell us more about the stripper.
Those scamps at Busted Coverage were all over it. Digging through social media, they turned up Sweet Pea's (now deleted) Instagram account, which shows her (on the left, in the blonde wig) and some friends ("Team Ravens") in what appears to be the infamous party bus.
There's more, including photos of her with various NFL players, and one shot of her and McKinnie from 2003—these two go back a long way. No wonder McKinnie reportedly got into it with a friend of Jones when he tried to go after Sweet Pea.