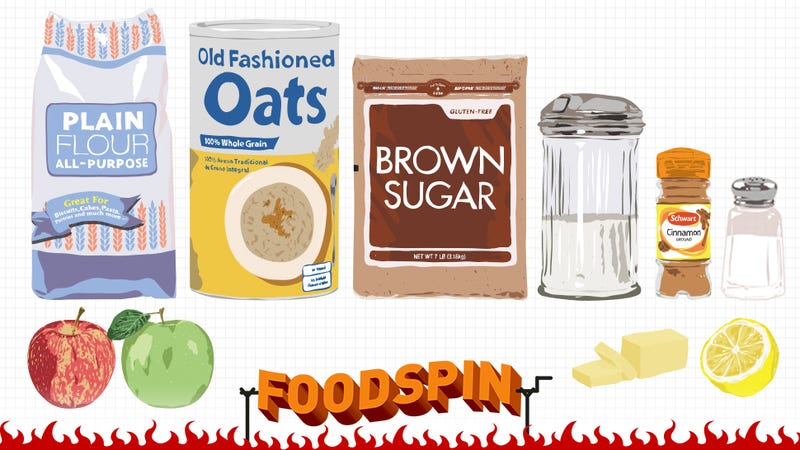 Fun fact! Careful examination of the historical record reveals that, whatever the goddamn Starbucks menu may suggest to the contrary, the consumption of non-pumpkin-flavored foodstuffs between Sept. 15 and Dec. 20 is not a capital crime. Whether the consumption of non-pumpkin-flavored foodstuffs in that time period is actually possible, on the other hand, is a matter of some controversy, in the sense that, no, it is not possible, because every goddamn food on Earth is pumpkin-flavored right now.
With all apologies to the estimable pumpkin—may its mutilated, burning remains light our Halloween doorsteps forevermore—its flavor is no more essential to the season than that of the apple. We tend to forget this, because they're available year-round (in mealy, flavorless, out-of-season form), but apples reach peak deliciousness in autumn, when, speaking in mathematical terms, a ripe apple tastes precisely 9.7 times better than the square of the combined deliciousness of all other foods, forever. And yet, we insist on cramming the dour, boring "pumpkin-spice" flavor combination into everything we eat in autumn, and leave the apples for kids' school lunches. Why? Why, goddammit, why?
Actually, not why. Who cares. People go pumpkin crazy in autumn and that's dumb, but instead of ruminating on the phenomenon's causes, let's just fucking fix it. Make apple crumble! Apple crumble is wonderful. It tastes like apples—vividly, stunningly, orgasmically of apples—and doesn't require you to make pie crust, which is a big ol' pain in the ass. It's not so different from cobbler, but where cobbler has a slightly salty biscuit topping perfectly suited to the sweetness of peaches, apple crumble has a crispy, sugary topping that pairs better with the tartness of fall apples. It's delicious. It's amazing.