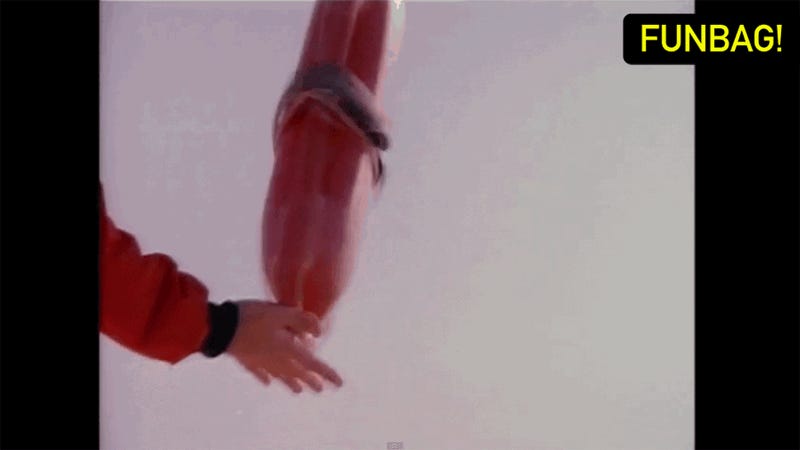 Time for your weekly edition of the Deadspin Funbag. Got something on your mind? Email the Funbag. Today, we're covering gay royalty, Russian roulette, football-induced cancer, and more.
I have new neighbors moving in this week. New neighbor anxiety is a vast and complex kind of tension. There is good tension: They could be nice! They could be attractive and like being naked with the blinds open! And there is bad tension: They could be rednecks! Or child molesters! Or redneck child molesters! The possibilities are really endless. I've got my eyes on you, new neighbors. If you're Russian double agents, I WILL find out.
Your letters:
BJ:
What TV show has been fapped to the most? Leaving out HBO and other premium cable channels and after tossing it around with some friends, someone threw out Charlie's Angels, another one said Three's Company, but then the magic title was uttered: Baywatch. That has to be it, right?
Given its popularity abroad, I can't imagine any other choice. It was syndicated in 148 countries. That's a veritable UN of horny middle-aged men watching that show with their pants around their ankles. I bet the top 10 masturbated-to shows are all Baywatch knockoffs of some sort: Baywatch Nights, She Spies, Xena, etc. And the fact that the Internet now exists means that the show's unofficial record is likely to remain untouched. What hope does NCIS have to beat it? That phony goth chick does NOTHING for me.
Now, I say all this while confessing that I never used Baywatch as fap material as a kid. Most of the woman on that show (Pam Anderson, Erika Eleniak) were fully naked in other places, and so the show, for me, was kind of a letdown because it concealed shit I had already seen. Married With Children? Now there was a show that I abused myself to. Every time Kelly wore a tight skirt (every episode!) or any time Bud brought home a skank (every episode!) or every time Al daydreamed about being surrounded by skanks (every episode!), I was at the ready. Here are a few more unsung shows in that area:
Studs
Any late night talk show where an actress guest wore a skirt
SNL. There's an old sketch called "Don't Hitchhike" where Tim Kazurinsky gets into a car with a woman who starts slowly undressing. Really solid sketch for pubescent needs.
Dial MTV
Murder, She Wrote
If we're including HBO and Showtime, then obviously shows like Real Sex and Red Shoe Diaries wreak havoc on our little record book. I, for one, am deeply ashamed of all the time I watched Dream On pantsless. You know how fucking annoying that show was? It wasn't worth it.
Sarah:
What happens if Prince George is gay? Is he able to come out? Will the royal family let him marry a man? I don't know how things are in England but I assume their equal rights movement is trending similarly to ours and basically anyone under 80 will be okay with it by that time. Do you think George will be able to safely come out when he's an adult? Or will he be forced to marry a woman and carry on super-secret relationships with men while the palace turns a blind eye?
I think the Queen would likely be dead by the time Prince George would be ready to come out, making life easier for all parties involved. The royal family is a completely fucked up, backwards, stubbornly traditional institution. The Queen is the sort of person who probably looks down on women for being pregnant outside of the home. "Dreadful! SIMPLY AWFUL BEHAVIOR."
I can't begin to imagine the exasperation that Kate Middleton and Undeserving Guy Married To Kate Middleton must experience in dealing with their socially crippled elders. Kate probably gets a tensely-worded letter any time she goes to take a shit. My guess is that the Queen, were she to live another 20 years, would frown upon the public announcement of her great grandson's sexuality. "It simply isn't proper!" And dumbshit Prince Charles would probably fall in line and be like, "Oh yes, mum is quite right. BEST TO KEEP THIS SORT OF FING PRIVATE YOU KNOW."
But that's unlikely to pass. If Prince George turns out to be gay, he will likely escape the traditional royal policy of defenestrating the partners of all homosexual offspring. He'd likely come out (to Tina Brown!), and then marry as he sees fit (gay marriage in the UK is set to be legalized in summer of 2014). But whether or not he'd be able get hitched at Westminster Abbey—with a priest and a royal carriage for his new hubby and little flower girls and all that—would probably remain a matter of contention. My hope is that, regardless of what happens, "Two Princes" gets to be their first dance song. JUST GO AHEAD NOW...
Robert:
I saw an article once about Dwyane Wade surprising a high schooler by taking her to prom. This is fairly commonplace among athletes/celebrities/Michelle Obama these days, but what would the backlash be if it came to light that Dwyane Wade (or any famous person in the same situation) ended up sleeping with his/her prom date?
Well, if it were Dwyane Wade, it would obviously end up with that prom date ranting and raving about him out on a busy Chicago street.