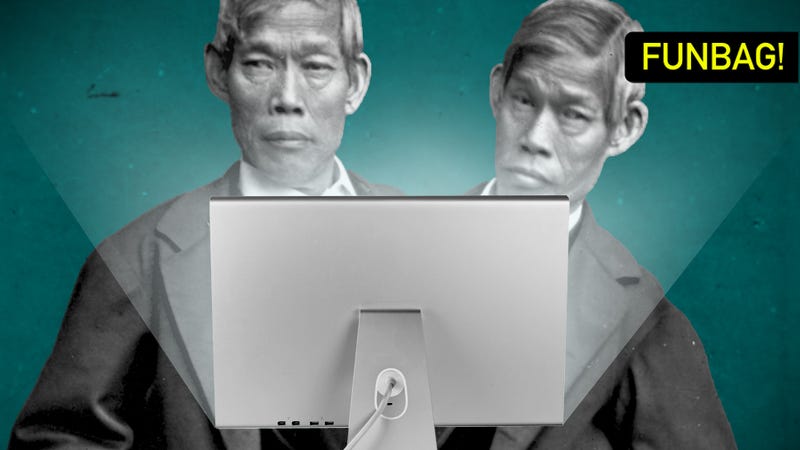 Time for your weekly edition of the Deadspin Funbag. Got something on your mind? Email the Funbag. Today, we're covering duck accidents, penile door slams, and more.
Your letters:
Mike:
I'm in a fantasy league with twelve teams. One team is run by two guys. This is stupid, right?
Sure is! There are only three good excuses to share a fantasy team:
1) There's only one spot left in a league that you and a friend want to join, so you decide to share a team so that you can both get in.
2) It's an expensive league and you're too broke to join on your own, so you split the fee with your friend. (NOTE: If you join an expensive league with an entry fee of, say, a thousand dollars, you are a fucking moron. You just gave away a thousand dollars. Why would you do that to yourself? Head back to the low roller tables, dummy. Trust me, it's just a miserable when you lose $20 in your stupid league.)
3) You joined a league with your kid to teach your kid about fantasy football so that they can like football so that they won't bitch when you put football on the TV. Also, you can bond with your kid as you chew out David Wilson together.
That's it. If you're sharing a team just because you like the idea of sharing a team, you're awful. Are you trying to split GM duties? You'll spend more time trying to get a hold of one another for approvals then you would if you ran the thing yourself.
The whole point of fantasy football is to run the whole show—to be the deranged Jerry Jones and run your horrible team into the ground. You pick the players, you make the lopsided trade requests, and you troll the waiver wire hoping Arian Foster appears there magically. And you do it ALONE, with no friends or allies. Just you in a dark room staring a computer screen, toggling back and forth between flex starters. It's a lonely, miserable, awful exercise and it's meant to be that way. What are you gonna do, sit in a room with your co-GM and bounce a tennis ball off the wall while cooking up zany team names? You're not some Hollywood screenwriting duo. You go to hell.
Andrew:
This fucking 'Final' in yellow on CBS bottom line is driving me nuts. It looks like there is a flag on every play. Fuck these assholes. And fuck Nantz.
It used to be red. Why isn't it red anymore? Red is the perfect color for the FINAL graphic. Oh, how I dread it when I have a subpar fantasy performer and I see his game go to FINAL on the crawl, and I know for certain that he will still no more points that the piddlyshit 3.56 points he got over four quarters. God fucking damn you, FINAL graphic. The red graphic makes it feel like breaking news about someone dying, which is appropriate!