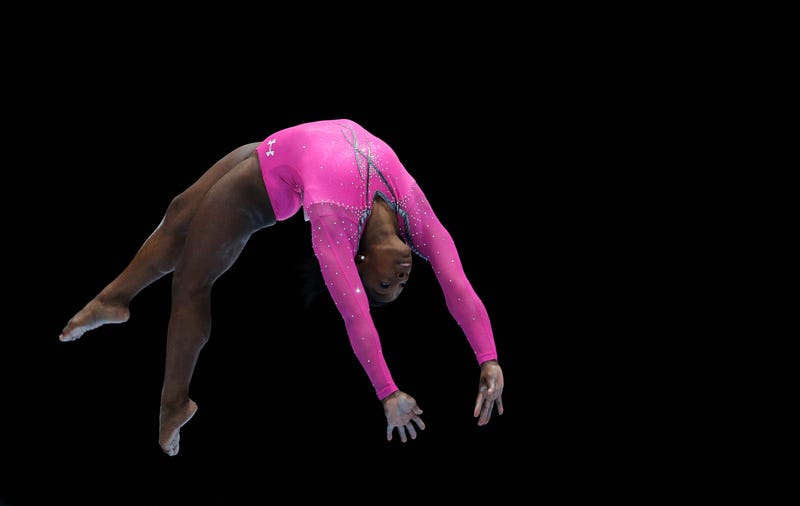 Last week in Belgium Simone Biles made history by becoming the first woman of color to win an all-around title at the world championships, just a year after Gabby Douglas took the top spot at the Olympic Games.
Biles's win, unlike Douglas's, took virtually no one by surprise. She was coming off of a terrific rookie senior season, placing second at the American Cup and winning the national title on her first try. She looked sharp all week in Antwerp, enjoying consistent training sessions and showing the most difficult routines of any of the gymnasts. If she hit in the competition, she would win. Which she did, taking first place over teammate and Olympic gold medalist Kyla Ross.
Most seem pleased with the all-around results, including Ross who had been leading Biles by a slim margin heading into the final rotation. Third-place finisher and former world champion Aliya Mustafina was also satisfied with her bronze after rebounding from a disastrous preliminary round performance.
But Carlotta Ferlito, an 18-year-old Italian who finished 11th, wasn't so impressed with Biles's win. Talking to the Italian media, she said, "I told Vanessa [teammate Vanessa Ferrari] that next time we should also paint our skin black, so then we could win too."
Once the shit hit the Twitter, the Italian gymnast apologized for her remarks. Unfortunately, her gymnastics federation stepped in to defend her and things got even more racist. More racist than blackface? Yes, more racist than blackface.
On their Facebook page, spokesperson David Ciaralli posted a note, trying to explain how what Ferlito said wasn't really racist; rather, she was noting a "trend" in women's gymnastics whereby the rules supposedly favor black athletes. He wrote:
"Carlotta was talking about what she thinks is the current gymnastics trend: the Code of Points is opening chances for colored people (known to be more powerful) and penalizing the typical Eastern European elegance, which, when gymnastics was more artistic and less acrobatic, allowed Russia and Romania to dominate the field."
After bringing up that racist oldie but goodie—blacks aren't good swimmers—he ends with this whopper, "Is gymnastics suiting colored features more and more, to the point athletes wish they were black?"
As Louis C.K. noted, no white person in their right mind wishes to be black. Ferlito doesn't want to be black (but after the backlash, she might wish to be invisible for a while). She's an athlete—she wants to win. And on some level, perhaps subconscious, she thinks that the rules favor elements that can only be performed by athletes of color. (I'll get back to that.) Or perhaps she believes there's affirmative action in gymnastics judging whereby black athletes are judged more favorably? Because black people being given the benefit of the doubt is something that happens all the time in real life.
What is this belief based on? That's where Ciaralli's remarks about artistry come in.
They are part of a larger ongoing conversation amongst coaches, athletes, judges, and fans as to the direction of the sport, on whether it moves in a more artistic direction or towards power and tricks, as though those are mutually exclusive categories. Most of these debates usually end with artistry supporters reminding everyone that the sport is called "artistic gymnastics," never mind that no one can agree what "artistry" in gymnastics means.
Last year, I wrote about how "artistic" or "artistry" is coded language for body type. Lithe and flexible gymnasts are routinely called "artistic" regardless of how well they dance or engage with the music or audience. Short, muscular gymnasts such as former Olympic gold medalist Shawn Johnson or Biles are not considered "artistic" regardless of how they move or connect. (I've seen Biles perform live twice now—she can really sell a routine.)