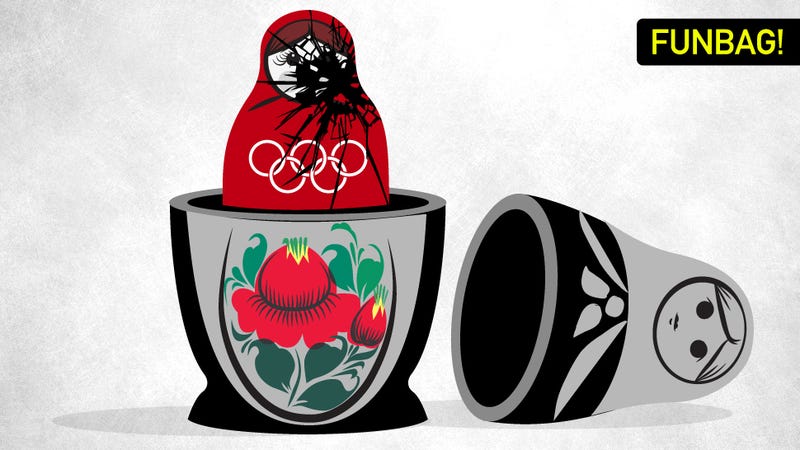 Time for your weekly edition of the Deadspin Funbag. Got something on your mind? Email the Funbag. Today, we're covering cereal milk, beefs, inanimate objects, and more.
Your letters!
Mike:
What are the odds something truly awful happens during the Sochi Games? 90% 99.99999%?
The latter. Honestly, we should have a threat level chart for these games. ORANGE means a journalist has been poisoned. RED means that a bunch of gay athletes are about to be detained and put on a boxcar to Irkutsk. PURPLE means a ski chalet is about to fall on everyone because contractors pocketed the construction money and made it out of old pasta.
The Games are taking place next to a war zone and a potential suicide bomber may have already snuck past security. I know that there have been plenty of other instances in the past—Athens, most notably—where people freaked out about potential Olympic facility delays or lax security and openly asked about moving the event, but this feels roughly 700 times more ominous. It's as if the bill for decades of corruption and exploitation and bogus amateurism is about to come due. I obviously hope nothing bad happens, because that would be awful. But I ain't exactly CONFIDENT.
And I'll watch! That's the amazing thing about the Olympics or the NCAA or any other horseshit amateur sports industry: In the end, people usually buy into the sport anyway. It's an open con and yet people will still fall for it. I know I will. Who am I to argue with a caviar highway if it means I get to watch two hours of pretty skaters spinning around? SPIN, DAMN YOU! SPIN SPIN SPIN!