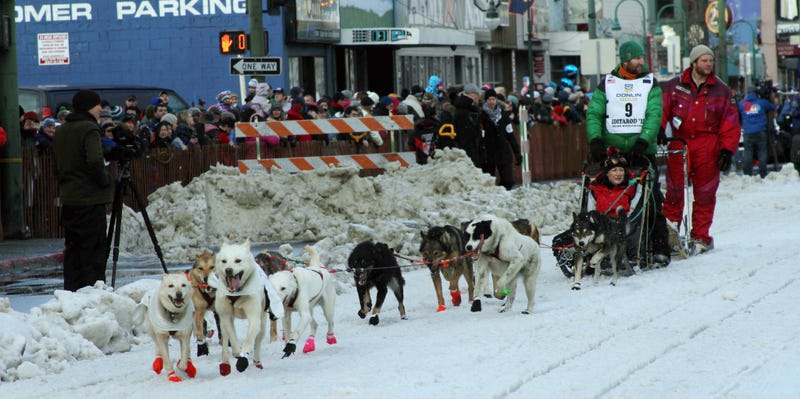 There are some truly fucked up reports of snowmobile dog murder out of Alaska early this morning.
According to Alaska Dispatch News, some jerkoff on a snowmobile repeatedly attacked the teams of Aliy Zirkle and Jeff King, who are both near the top of the current standings, and managed to kill one dog on King's team (Nash, who was three), injure two others, and also hurt one of Zirkle's dogs. They were headed to the Nulato checkpoint this morning when the attack occurred.
It's unclear whether the dogs or the mushers were the targets, but both racers seem shaken up by the attack:
"I'm really bad," she told race judge Karen Ramstead. "Someone tried to kill me with a snowmachine."

It was unclear Saturday morning if King had sustained any injuries during the attack. Iditarod officials said he requested and received medical attention for himself in addition to his team.
Apparently, a suspect has been identified:
Both mushers reported the incident to race officials and a made a report with Alaska State Troopers. According to the press release the suspect has been identified by the village police officer in Nulato and authorities are conducting an investigation.
Both racers plan on continuing. Zirkle left the checkpoint about three hours after arriving, and King has not left yet. We'll update this post if more information becomes available.
Update (6:00 p.m): According to AP, police have arrested 26-year-old Arnold Demoski for the crime and charged him with "two counts of assault, reckless endangerment, reckless driving and six counts of criminal mischief."
The Alaska Dispatch News interviewed Demoski, and he said he wasn't trying to assault the mushers or dogs, but rather had blacked out after drinking hard liquor. He sounds genuinely remorseful for what he did:
"I don't care if people know if I was drinking and driving," he said. "I'm really glad (Zirkle) and (King) are OK and I really feel sorry for Nash."

Demoski, a natural resources coordinator for the Nulato tribal council, said he came to after the collisions with his adrenaline pumping. He said he thinks he turned around to check on the teams, but was afraid to stop out of fear he would get in trouble for drinking and driving.

"As soon as I woke up this morning I heard about what happened," he said. "I went to check my sno-go. The front panel was missing. I knew it was me right off bat. I called the (village public safety officer) right off, told him it was me. I told him I'd do whatever they want me to do. I'll tell the troopers whatever they want to know. I feel really bad for what I did."
h/t Vice Sports
---