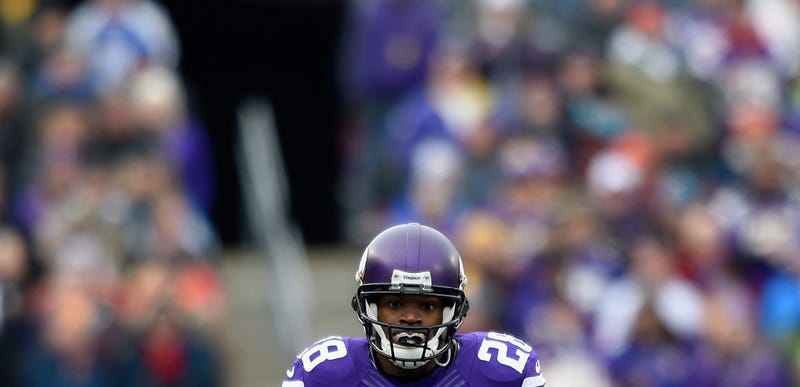 Adrian Peterson doesn't want redemption for whipping his child with a tree branch, but Sports Illustrated is delivering it to him anyway. Greg Bishop's profile of the running back, published Tuesday, doesn't hand out the redemption directly—it can't, because Peterson is fine with what he did to his child— so instead it doles it out by implication. Here's A.P. visiting a child dying of cancer; here's A.P. being nice to his own son; here's A.P. giving a motivational pep talk to one of his teammates. Tough guy to not like, right?
Despite explicitly disavowing the usual jock-redemption narrative, this story manages to hit all the marks in the standard player forgiveness profile, even as its subject insists he did nothing wrong. One of the greatest running backs in recent history doesn't want your forgiveness, but SI, perhaps out of habit, tradition, or pure muscle memory, can't help but make the case for it anyway.
The thin thread on which this case hangs is A.P.'s word that he no longer hits his children. Good news, certainly, but nothing that makes it any less strange to present the fallout from his child-abuse case as essentially another challenge among the many he's overcome on the way to his touchdowns and rushing records. One of the many problems with this is that it centers the story on the effects things have on Peterson, rather than the effects he has on others. This reaches a ludicrous apotheosis in the presentation of the four-year-old A.P. fan Skyler Elfering's death from a cancer that develops in immature nerve cells as a spur for Peterson to realize what it all means.
"Peterson is again reminded of the fragility of fatherhood, of life," writes Bishop. "His son, the one from the abuse case, continues to visit him. 'Their relationship,' Ashley says, 'that's what matters.'"
---
There is a thoughtful profile to be done of Peterson that presents him as a spoke on a wheel, rather than its hub. It would clearly describe him as unapologetic, discuss how he learned to hit his children by growing up in a home and a community that still condone the practice, and closely examine how family violence gets passed down from generation to generation precisely because of the logic Peterson uses: My parents did it to me, and look how good I turned out.

This is not quite that, and every time Bishop gets near it, he layers on the schmaltz and suggests that Peterson has used his unfortunate difficulties as an opportunity to become a better person. (The kicker? One of A.P.'s sons saying, "Hi, Dad.") Conveniently set in the middle, where it's easiest for readers to miss it, are some of the details of what Peterson actually did.
Let's start with this: Records show Peterson knew what he did, and it was more than one or two whacks on the butt. Peterson told the police that his son pushed another kid off a motorbike video game, and that this was the punishment. The beating, Nick Wright at CBS Houston reported, "allegedly resulted in numerous injuries to the child, including cuts and bruises to the child's back, buttocks, ankles, legs and scrotum, along with defensive wounds to the child's hands."
The boy, according to the reports, said, "Daddy Peterson hit me on my face."
The child also expressed worry that Peterson would punch him in the face if the child reported the incident to authorities. He also said that he had been hit by a belt and that "there are a lot of belts in Daddy's closet." He added that Peterson put leaves in his mouth when he was being hit with the switch while his pants were down. The child told his mother that Peterson "likes belts and switches" and "has a whooping room."