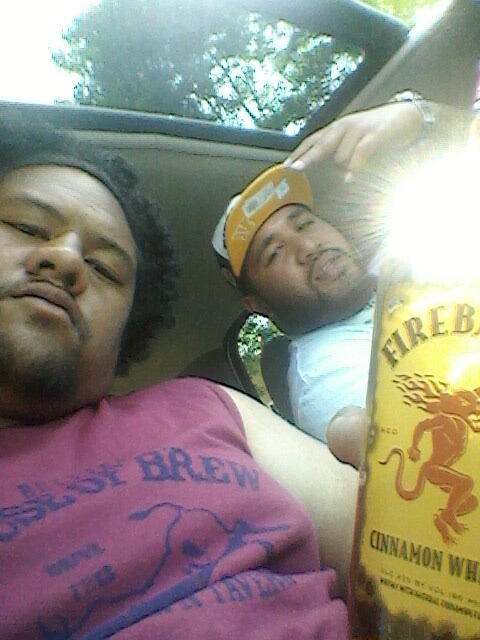 Last October, Steelers nose tackle Alameda Ta'amu got wasted and decided to play bumper cars with several parked vehicles on Pittsburgh's South Side. Thursday, Ta'amu was sentenced to just 18 months' probation for it all. Last night, Ta'amu's friend tweeted the photo you see here, and Ta'amu re-tweeted it. (That's Ta'amu driving while the unnamed friend rides shotgun while brandishing the cinnamon whisky.) The tweets have since been deleted. But Ta'amu can explain!
Just realized I retweeted a bad pic from after the draft last year.Friend from home messin with me. I don't drink anymore. HONEST MISTAKE

— Alameda Taamu 95 (@MEDATAAMU74) April 8, 2013
I don't go out and I don't drink.. I've passed every UA test since October 14.. I'm in Pitt training.. Focused for next season

— Alameda Taamu 95 (@MEDATAAMU74) April 8, 2013
HONEST MISTAKE. Really. Didn't look at his pic before sending my tweet. Wouldn't joke about that.

— Alameda Taamu 95 (@MEDATAAMU74) April 8, 2013
The incident last October was not Ta'amu's first DUI. The Steelers had suspended him without pay for two weeks before waiving him, re-signing him to the practice squad, and eventually activating him for the 2012 season's final game. After Ta'amu was sentenced last week, Roger Goodell's hall monitors promised to review his case to determine whether a suspension was in order. This HONEST MISTAKE probably won't help his cause.