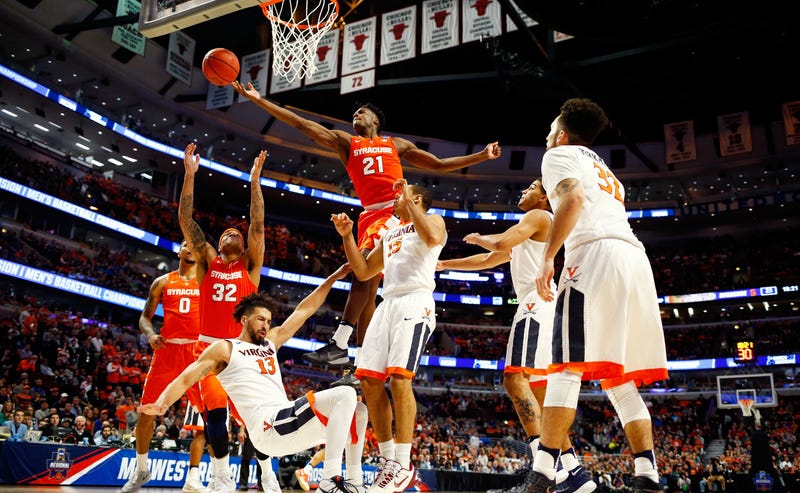 Slow and steady, sometimes, goes home.
Syracuse's shocking comeback 68-62 win over Virginia was all the more unexpected because this might've been one of the last teams thought capable of it. The Orange owned the highest RPI of any team to ever get an at-large bid to the NCAA Tournament, and are now just the fourth double-digit seed to make the Final Four. But no one is struggling for an explanation as to how Syracuse turned a 15-point deficit with 9:33 left into a lead in less than five minutes: press, press, press.
Former Cuse guard Gerry McNamara, who won a title in 2003 and is now an assistant coach, resorted to a movie reference to sum up the rapid and total turnaround. "In the immortal words of the movie Anchorman," McNamara said, "that escalated quickly."
Syracuse's switch to a full-court press is not the only answer for why it was able to pull off a 21-2 run, and it is a little simplistic, but it is most definitely not incorrect. The Cavaliers are one of the slowest and most efficient teams in the nation, and it works for them, and it was working for them in a dominating first half. Patient ball movement kept setting up London Perrantes for open threes, and the Cavs' pack-line defense denied the Orange access to the paint, or anything resembling breathing room.
So at the half, Jim Boeheim made the decision to speed things up. The Orange abandoned their ball screens for the second half and began to drive the paint, testing the give of Virginia's D. They found some, getting some offense where there was no offense before, much of it from freshman Malachi Richardson, who scored 21 of his 23 points in the second half. But for all Syracuse's newfound scoring, they couldn't close the gap until they forced Virginia to speed things up on the other end. With 10 minutes left, earlier than Boeheim initially wanted to do it, the Orange switched to a full-court press. "Simple," Boeheim said with massive understatement, "but it worked a little bit better."
"We weren't going to cut a 15-point lead against Virginia down by playing half-court," Boeheim said. "The best we could hope for is lose the game by seven, six or seven, if we play well. If we play well."
The thing is, it was simple. (Though easier in theory than in execution, obviously. Making the decision to force Virginia to play faster than it was comfortable with was obvious, but actually doing it with success is a credit to the Orange.) Anyone with eyes could see how good the Cavs were when they could move the ball and pick their shots. Most anyone, anyway. The comeback was particularly satisfying if you were hanging out on Twitter during the game, watching a certain college hoops analyst insist, in the face of evidence both statistical and visual, that Virginia is actually an up-tempo team.